West Coast Eagles player Willie Rioli to face court over alleged cannabis possession
Willie Rioli's footballing future is hanging by a thread tonight as the West Coast star prepares to face Darwin Local Court tomorrow on a drug charge.
The Eagles have reacted with a mix of anger and sadness – as the incident comes just months after he was handed a lifeline following a 2019 drug scandal.
"He's a mess, he's gutted, he's not in a good space, he hasn't told many people – I think he probably feels a sense of shame," Eagles General Manager Craig Vozzo told media today.
"When this happens – it really questions the degree to which you can trust him. He's made some really poor, really poor and disappointing decisions."
Police were conducting drug screening operations at Darwin Airport on April 23 when a drug detection dog responded to a 25-year-old man, they said in a media release.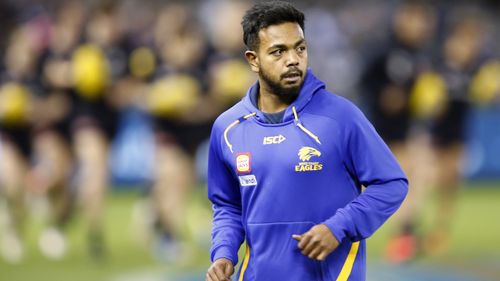 A search warrant was carried out and 25 grams of cannabis was allegedly located in the man's pants.
It's understood Rioli was issued with a Notice to Appear in Darwin Local Court on May 12, charged with possessing schedule two dangerous drug less than trafficable quantity.
"Very disappointed – anger as well but a sense of sadness too," Mr Vozzo added.
"He's a good, young man deep down and he's got an issue that need to be – he needs help with."
The 25-year-old's career is now well and truly on the line.
The Eagles and the AFL will now determine whether he'll be sacked.
"It's definitely in that category but we need to deal with the facts and the outcome from a legal process point of view," Mr Vozzo said.
"We can continue to financially assist him – we can't have any direct contact with him from a training or performance perspective."
The Eagles club lawyer David Grace QC will support the legal team Rioli has appointed in Darwin.
His first court mention will be heard at 10am.