Controversial Sam Smith concert 'exceeded all expectations', probe finds
A review of a controversial taxpayer-funded private concert by pop star Sam Smith in South Australia has found it "exceeded all expectations" in promoting the state.
But there's no word yet on any economic returns it generated and some of the so-called "influencers" who were invited to the lavish event in the McLaren Vale wine region in January might not be so lucky in the future.
The fully catered concert for an exclusive, hand-picked crowd was designed to generate free publicity for SA Tourism worth the equivalent of a $7 million dollar advertising spend.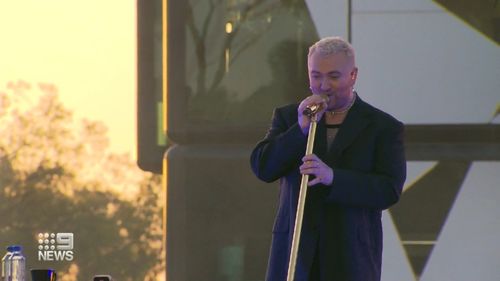 The official review found the result was more akin to $32 million in advertising but it's still not known what the event actually cost to stage.
South Australian Tourism Commission CEO Emma Terry said the concert delivered "above our expectations in terms of some of the KPIs we set".
The "influencers" who were invited were said to have reached 2.4 million people on social media with posts about the event.
SA Tourism platforms reached 1.3 million and British singer Smith reached 1.1 million.
However some of their SA highlights, such as Smith's visit to McDonald's, raised eyebrows
Opposition Spokesman John Gardner said locals didn't benefit.
"It was great value for Sam Smith and promotion of his concert and album but terrible value for South Australians, I don't think we got much out of it at all," he said.
Despite the scrutiny, the tourism commission said it would host such an exclusive event again.
But the influencers invited would be chosen differently, it said, amid reports a woman was seen urinating in front of the stage.
"We've had a number of discussions with the team on what that would look like, we certainly heard that loud and clear from the South Australian public," Terry said.