Live updates UN warns hospitals will run out of power in 24 hours; Biden warns Israel against occupying Gaza; Israel claims Hamas commander killed in strike
Israel has claimed a senior Hamas commander was killed in an airstrike on the weekend. The United Nations has warned hospitals in Gaza only have enough fuel for 24 more hours of operation.
US President Joe Biden has warned against Israel occupying Gaza ahead of the looming invasion. Work is continuing on getting Australians trapped in Gaza to safety. Water has run out at UN shelters across Gaza and there are fears the last of the fuel stocks powering hospital generators could be used up by today. The death toll has surpassed that of the third war between Israel and Hamas, in the summer of 2014.
We mentioned concerns about Gazan hospitals running out of fuel – and with it the ability to continue operating – a little while ago, but an update from the UN's humanitarian office has outlined just how desperate the situation is.
In the update, posted several hours ago, the Office for the Coordination of Humanitarian Affairs (OCHA) said hospitals would run out of power in just 24 hours.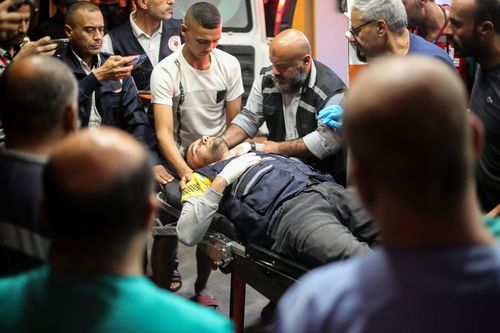 "Fuel reserves at all hospitals across Gaza are expected to last for about an additional 24 hours," it wrote.
"The shutdown of backup generators would place the lives of thousands of patients at risk."
It also said water insecurity fears remain high despite Israel partially resuming supplies to one area, as Gaza's last desalination plant is now offline.
"Israel partially resumed water supply to the eastern Khan Younis area," OCHA said.
"Concerns about dehydration and waterhe UNborne diseases remain high given the collapse of water and sanitation services, including today's shutdown of Gaza's last functioning seawater desalination plant."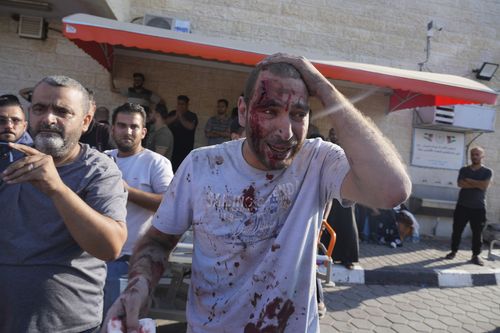 The US State Department has recently provided an update about the situation at the Rafah border crossing, advising its citizens to get as close as possible – if it's safe – because it's unsure how long it will remain open if and when the passage does become available.
"According to media reports, the Rafah crossing will open at 9am local time on October 16," it wrote on X, formerly Twitter.
"We anticipate that the situation at the Rafah crossing will remain fluid and unpredictable and it is unclear whether, or for how long, travellers will be permitted to transit the crossing.
"If you assess it to be safe, you may wish to move closer to the Rafah border crossing – there may be very little notice if the crossing opens and it may only open for a limited time."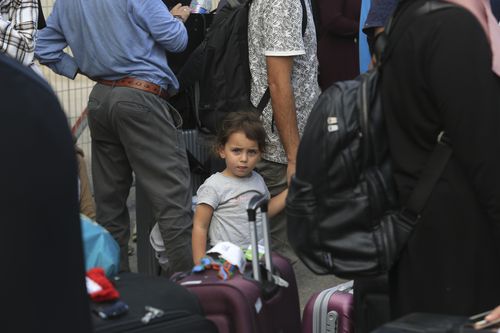 Only a few hours after US President Joe Biden warned against an occupation of the Gaza Strip, Israel's ambassador to the United Nations has denied the nation has any plans to take back control of the region for the first time since the mid-2000s.
"We have no interest to occupy Gaza or to stay in Gaza," Gilad Erdan told CNN.
However, with a ground invasion of the enclave appearing increasingly imminent, Erdan did say Israel would do "whatever is needed to obliterate" the capabilities of Hamas.
Erdan's comments echo those of Michael Herzog, Israel's ambassador to the US, who told CNN earlier that the nation has "no desire to occupy or reoccupy Gaza. We have no desire to rule over the lives of more than two million Palestinians".
Israel seized Gaza during the Six-Day War of 1967 and held it for nearly 40 years until 2005, when it withdrew its troops and settlers.
The United Nations could send much-needed humanitarian aid into the Gaza Strip within hours – but cannot do so right now due to safety concerns.
"The UN has stocks available of food, water, medical supplies and fuel in Egypt, Jordan, the West Bank and Israel," Secretary-General Antonio Guterres wrote on X, formerly Twitter.
"They can be dispatched within hours.
"To ensure delivery, our staff need to be able to bring these supplies into and throughout Gaza safely, and without impediment."
His comments come amid concerns Gazan hospitals will run out of fuel for their backup generators within the next two days, pushing them out of order.
Israel has been accused of targeting medical infrastructure in its attacks on the enclave – a claim it denies – while the IDF is laying the blame at Hamas for keeping the Rafah border crossing closed.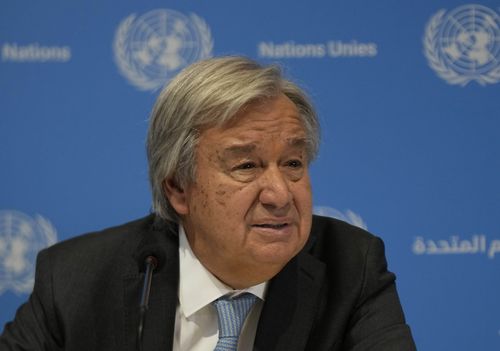 The Pentagon has ordered a second aircraft carrier strike group to the eastern Mediterranean Sea and is sending air force fighter jets to the region as Israel prepares to expand its Gaza operations.
US Defence Secretary Lloyd Austin said the warships are not intended to join the fighting in Gaza or take part in Israel's operations, but the presence of two of the Navy's most powerful vessels is designed to send a message of deterrence to Iran and Iranian proxies in the region, such as Hezbollah in Lebanon.
The movements are "part of our effort to deter hostile actions against Israel or any efforts toward widening this war following Hamas's attack on Israel," Austin said.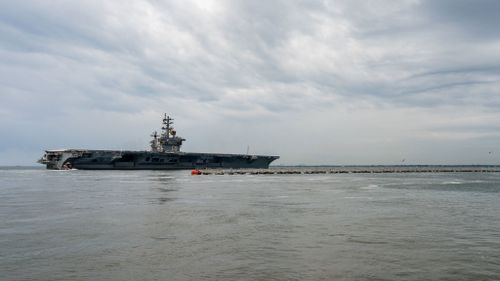 Following Secretary of State Antony Blinken's comments earlier today that the Rafah border crossing between Gaza and Egypt will open, some US media outlets are reporting that is set to happen soon.
NBC News has quoted a Palestinian official and said the crossing will open at 6am GMT – that's 5pm AEDT – while ABC America has reported the pass will only be open for a few hours on Monday (local time) before being closed once again in the afternoon.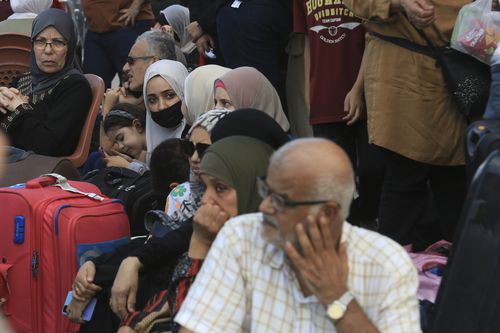 In an update to international media not long ago, Israel Defence Forces spokesperson Jonathan Conricus was questioned about the "very sensitive topic" of reports about some hostages being executed by Hamas.
"No reports of hostages executed have been confirmed," he said.
"As of now is we have is a special task force at the national level… we are looking for information and of course we are extremely committed to getting them back."