Hundreds more Perth residents evacuated after massive blaze destroys more than 70 homes
Fresh evacuation warnings have been issued to Perth residents in the path of a ferocious blaze threatening hundreds of homes in steep, difficult-to-reach terrain.
Anybody remaining in the Avon Ridge and Joshua Mews areas has been warned that it is now too late to leave, and they are in immediate danger.
Hundreds of residents in the Shady Hills estate and East Bullsbrook area have been told to evacuate immediately if they are not prepared to fight the fire, which is expected to reach homes shortly.
Speaking from the WA Department of Fire and Emergency Services (DFES) Incident Control Centre set up at the Mundaring Arena, Premier Mark McGowan described the current situation as unprecedented and extremely dangerous.
"We're facing disasters on two fronts – the devastating bushfires and the COVID-19 pandemic," Mr McGowan said.
"It will test us all – the fire has devastated our community.
"We know that 71 homes have been lost. That number is expected to rise."
Hot, dry conditions and a strong southerly change are presenting fresh challenges for the hundreds of firefighters battling the blaze this afternoon, following milder conditions earlier in the day.
The bushfire has so far destroyed 71 homes, DFES confirmed this morning, with assessment crews expected to finalise their damage analysis within hours.
All residents of the Shady Hills Estate and East Bullsbrook area are being told to enact their bushfire survival plans immediately.
A telephone emergency warning had just been sent to homes in the affected areas, DFES Commissioner Darren Klemm told the press conference at around 12pm AWST.
"If you are not prepared, you should leave now," Mr Klemm said.
Shady Hills residents are being directed to leave in a northerly direction, while those east of Shady Hills Estate should exit east via Berry Road to Toodyay Road and continue in a north-easterly direction.
"That north-west corner of the fire is extremely difficult to control, in incredibly steep terrain. We're unable to get earth moving equipment in there," Mr Klemm said.
Instead, fire crews have been utilising large air tankers and fixed-wing water bombers to lay retardant lines across the region.
This includes an aerial tanker provided by the Federal Government following a request by Mr McGowan, which is now operational in WA.
However, whether this will prove enough to stop the fire's spread remains to be seen.
"We're only going to see the wind strengthen over the course of the day, which will make that fire in difficult, steep terrain incredibly difficult to stop running up the hill towards Shady Hills estate," Mr Klemm said.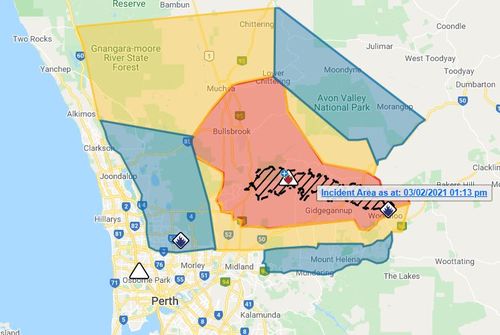 The number of suburbs under emergency, watch and act, and advice warnings was again expanded at 1pm today.
The red emergency zone now encompasses the following regions: The Vines, Bailup, Ellenbrook, Gidgegannup, Millendon, Walyunga National Park, Henley Brook, Upper Swan, Aveley, Lower Chittering, Avon Valley National Park, Wundowie, Red Hill, Muchea, Belhus, Baskerville, Herne Hill, Melaleuca, Chidlow, Bullsbrook, Wooroloo, Brigadoon, Chittering and Northan and the City of Swan.
The full list of affected suburbs is available on the Emergency WA website.
WA Police Commissioner Chris Dawson this afternoon sought to quash speculation the fire was started by an exploding meth lab, saying "no criminality" had been uncovered.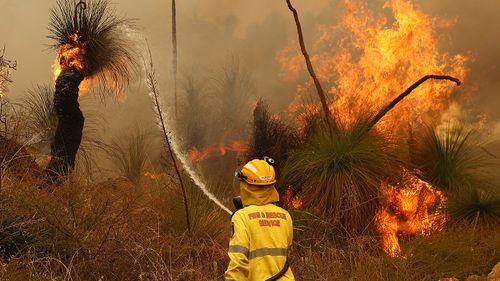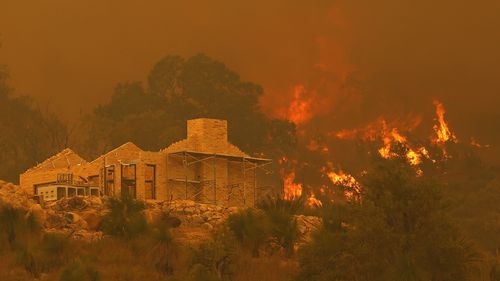 "We're quite certain it started in a locality of Werribee Road, near Great Eastern Highway," Commissioner Dawson said.
"The cause of that fire is undetermined, we don't know exactly how that started," he said.
"There's no criminality that's been identified at this point, but it is undetermined."
The fresh warnings come after more than 200 firefighters worked tirelessly through the night, with crews' primary aim to keep the blaze current containment lines.
The DFES said "at this stage there's no evidence of loss of life".