Australian Open hotel quarantine worker tests positive to coronavirus, new restrictions and exposure sites revealed
Up to 600 people associated with the Australian Open have been told to isolate after being identified as casual contacts of a quarantine hotel worker who has tested positive to coronavirus.
Restrictions have now been reintroduced across Victoria and a massive contact tracing operation is underway after the new confirmed case, Premier Daniel Andrews announced in an emergency press conference overnight.
The infected 26-year-old Noble Park man had been working as a resident support officer as part of the Australian Open quarantine program.
Mr Andrews said the hundreds of tennis players and support staff told to self isolate and await a negative test result may have an impact on Thursday's play at events in the lead-up to the Open.
"But at this stage, there's no impact to the tournament," he said.
There will be no matches played at Melbourne Park on Thursday, and a decision is expected later today on the Melbourne Summer Series and ATP Cup tournaments that finish this week.
The infected man last worked at the Grand Hyatt on January 29 and undertook a PCR nasal test at the end of that shift, returning a negative test result at that time.
He later developed symptoms and got tested, returning a positive result yesterday.
He is now in a health hotel and his household contacts have been isolated.
The infected man is also a Country Fire Authority volunteer and has attended at least one CFA function.
"We've been through FRV (Fire Rescue Victoria) and CFA, contacting brigades," Mr Andrews said.
"They're doing deep-cleaning. They, in turn, are contacting their members, their staff as well as their volunteers, and we're confident that people will get the information that they need as quickly as possible."
Victoria's New Year's Eve or Black Rock cluster restrictions have been reimposed from midnight, Mr Andrews said.
The restrictions mean private gatherings must now be restricted to 15 people in a home, masks must be worn indoors, and the expanded office capacity limits which were due to come into effect on Monday have been paused.
Mr Andrews urged for people to remain calm.
"This is one case. There's no need for people to panic," he said.
"There's no need for people to be alarmed. We Victorians know what to do, and we have proven, as a state, very successful at managing these sorts of outbreaks, these sorts of issues."
Exposure sites linked to new case
– Club Noble: Noble Park – 2:36pm – 3:30pm
– Aces Sporting Club (Driving Range):  Keysborough – 10:00pm – 11:15pm
– Northpoint Café: Brighton – 8:10am – 9:30am
– Kmart: Keysborough – 4:00pm – 5:00pm
– Kmart: Brandon Park  – 4:35pm – 5:10pm
– Coles: Springvale – 5:00pm – 6:00pm
– Bunnings: Springvale – 11:28am – 12:15pm
– Golf Academy: Heatherton – 5:19pm – 6:30pm
New statewide restrictions
– The limit on the number of people gathering in a household will be reduced from 30 to 15, meaning the household members plus 15 visitors (excluding children under 12 months of age).
– Masks mandatory in public indoor spaces. If you have visitors in your home, it is strongly recommended that masks are worn during the visit. Masks must be worn in indoor public spaces apart from when eating or drinking. If you are planning to leave your home – take a mask.
– The 75 per cent 'return to work' cap in both public and private sectors scheduled for Monday 8 February will be paused and the current cap of 50 per cent will remain in place.
Chief Health Officer Professor Brett Sutton delivered a message of hope to Victorians as the state prepares to battle another outbreak on the very same day it announced total elimination of the virus.
"We will do it again. If we have to do it 10 times over, we can do it," he said.
"We've got the tools. Really importantly, we've learned the tough lessons and we've provided those tough lessons to the rest of Australia.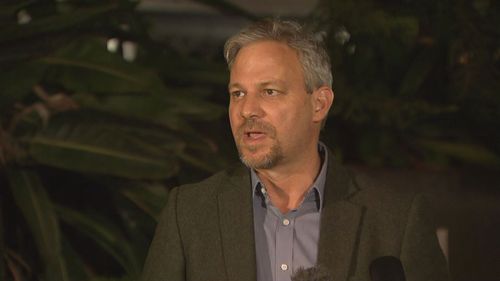 "We've learnt from our counterparts. Every time there's a challenge that one of our interstate counterparts faces, we learn from it and vice-versa.
"Australia's in a good position."
Mr Andrews pleaded for Victorians to be tested as soon as possible if they have any symptoms or attended an exposure site.
"I think the community knows and understands that what starts with one case, if you want to keep it at very small numbers, we all have to play our part," Mr Andrews said.
"The most important thing … every single Victorian, if you've got symptoms, please go and get tested. Don't wait a moment. Get tested first thing tomorrow morning. You'll be doing a great service to you, your family, and every single Victorian family."
Worker had 'high viral load'
Dozens of the man's close contacts are already in isolation, Professor Sutton said. Precise numbers will be announced on Thursday.
He warned more positive cases would likely emerge due to the infected man's "high viral load" and after his close contacts are tested.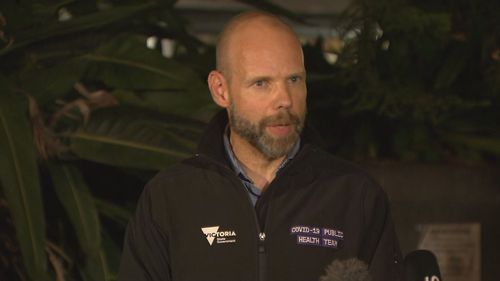 "I think the testing of this individual indicates that he probably had a high viral load. That's what the test results show," Professor Sutton said.
Victoria's testing commander Jeroen Weimar said contact tracing would continue through the night.
"The individual concerned has provided outstanding information," he said.
"We are continuing to talk to him tonight to extract as much information as possible about his movements, to ensure we have an accurate view about his contacts and his exposure sites."