Elderly couple 'saved by human chain' after crashing caravan
An elderly couple who crashed their car towing a caravan have been rescued by brave drivers who formed a human chain.
The couple, in their 70s, were travelling along the M1 towards Sydney, just ahead of the Berowra exit, at around 11.20am.
Photos from the scene show the caravan on one side, and the crumpled car being towed away.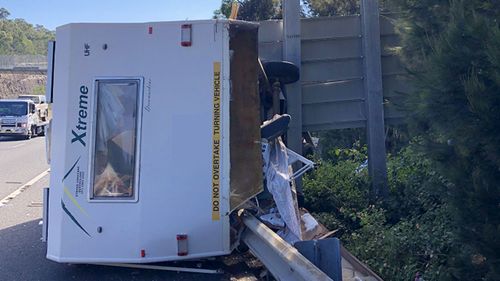 Witness Jim told 2GB's Ray Hadley motorists stopped to save the couple and their pet dog.
"We formed a human chain to take the lady out of the car and her pet dog," he said.
"We were scared the car was going to roll down the hill.
"Lucky the caravan was wrapped around the pole to hold the car back.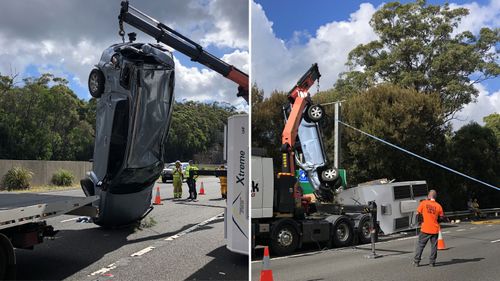 "I pulled over a truckie, we got a massive strap and secured the car to the guard rail and we were able to pull the gentleman out of the car as well," he said.
NSW Ambulance told 9News.com.au that – miraculously – no one had any major injuries or were even taken to hospital.
The man had some minor back pain, but his wife and their dog were completely unharmed.