Aussie fitness guru opens up about shock diagnosis
Tiffiny Hall has achieved just about everything in the fitness world – she was a trainer on The Biggest Loser, a gladiator and runs her own program TIFFXO.
But her diagnosis with Myalgic Encephalomyelitis/Chronic Fatigue Syndrome (ME/CFS) is set to be her greatest challenge yet.
"I went to hospital multiple times. And I was, you know, things got so bad, I had my mum and a friend move into the house full time, because I could not get out of bed to look after my son," she told A Current Affair.
The 36-year-old says she's been dealing with ME/CFS for the last 18 months and it's taken a toll on not just her, but also her family.
"It's been very tough for my whole family. My mum, my dad, my sister, my brother, my husband, they felt helpless, they didn't know how to help. It's not like there's a magic pill or treatment," she said.
Ms Hall said her symptoms range from being completely bed-bound to nausea, fainting and vomiting.
"We don't know what causes it yet, there is a lot of research happening and what we do know is this is a biomedical illness, it isn't something that's in patient's heads, it isn't something that has a psychological or psychiatric causation," she said.
Dr Nicholl describes the energy levels of sufferers as being like when a phone is low on battery, to better explain how important it is for patients to monitor their exertion throughout the day.
"If you imagine that your phone battery was stuck at 30 per cent, you're going to be really careful about what apps you open and how long you have the screen lit up for and that's really what happens with patients," she said.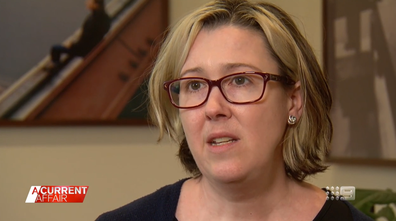 At this stage, Dr Nicholl said the likelihood of diagnosed ME/CFS patients fully recovering to pre-diagnosis levels are still uncommon.
"With the best current literature that we have and the best confidence that we can give around this, it's thought that less than 10 per cent of patients will be restored to pre-illness health," she said.
Despite this, Ms Hall is determined to get back to the way she was before her ME/CFS diagnosis, and for her that means taking a break from social media and her TIFFXO community indefinitely.
"But at the moment I just want to be mum. And I can't do that whilst I'm sick and chronically ill. So, I need to, I need to take this time out," she said.