Woman unleashes on dodgy hairdresser after hair extension disaster
In videos posted to his hundreds of thousands of Instagram followers, Melbourne hairdresser "Alan" usually loves the spotlight – just not when confronted by A Current Affair. 
The stylist, who installs hair extensions from a city high-rise, pulled a hoodie over his head and sprinted from our camera crew.
None of Alan's clients A Current Affair has spoken to know his full name or whether his business, called Melbourne Hair Extensions, is registered.
Customers are instructed to transfer money to him under the description "gift" and sometimes ordered to give him a "card-less cash" pin – generally used by people who misplace their bank cards – so he can withdraw money directly out of their accounts from an ATM.
Beauty therapist Melissa, who's been growing her hair for a decade, said she has now had to shave her head.
She paid Alan $750 to install hair extensions and said she felt unsettled from the moment she met him.
"He gave me a different address and came out of nowhere and got me," Melissa said.
"Took me across the road, into some alleyway and into these apartments.
"At the end after the extensions he stood behind me and played with my extensions."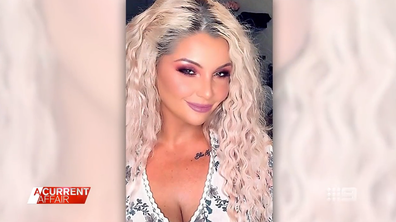 Melissa said Alan then asked her to record a video testimonial for his Instagram page.
"(He said) 'if you can do a video and say you've been here before and how good the experience was,'" she said
"A few weeks later I noticed the glue started to bind with the other bits of my hair.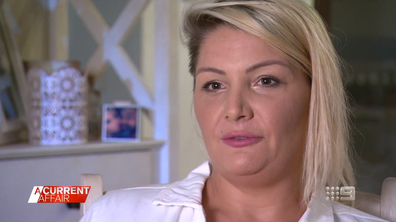 "(Alan) didn't reply to any of my messages.
"I went to my hairdresser and he said, 'he's used gorilla glue … it's impossible to get out'."
Melissa was forced to chop off her locks
"He just needs to be stopped," she said.
Tara* said she too was left less than impressed.
"Towards the end of it he had me sit down, and he gave me kind of a script which he wanted me to go off, like told me what he wanted me to say and he hit record (on the camera)."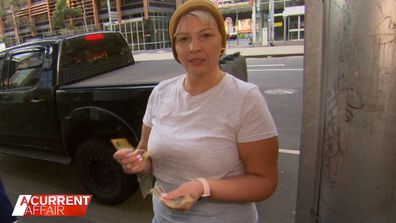 When confronted by Melissa near his Flinders Street studio, Alan pulled a wad of $700 from his pocket handed it to the beauty therapist.
"I'm happy I got my money back but I have no hair, so girls look out for him, do not go to him," she said.
"He's the worst hairdresser."
A Current Affair has provided evidence it uncovered to the Australian Taxation Office.
*Name changed.
Statement by an ATO Spokesperson:
The ATO cannot comment on the affairs of any individual or entity due to our obligations of confidentiality under the law.
Business owners need to consider their tax obligations including the need for an ABN, registering for GST, implementing a record keeping system to track income and expenses and a plan for paying tax they owe when they lodge their activity statements and annual income tax return.
We're committed to tackling shadow economy behaviour. The following behaviours fuel the shadow economy:
·       asking for or accepting a cash discount
·       not getting or providing receipts for services
·       under-reporting income
·       incorrectly claiming deductions
·       not keeping proper tax records.
The community is a key source of intelligence, so we encourage people to let us know when they hear or see something that doesn't add up.
From July 2019 to 30 January this year we received more than 89,300 tip-offs. Over 38,200 of these relate to small businesses. We're seeing an upwards trend in the number of tip offs which suggests that honest individuals and businesses have had enough of dodgy businesses cheating them and getting an unfair advantage.
We take all tip-offs seriously. When we receive information through a tip-off from the community, our dedicated team cross checks the information and assess whether further action is required.
If you would like to submit a tip off, you can do this anonymously if you wish, Due to privacy laws, we won't be able to inform you of the outcome of any information you provide.
You can tip us off by:
·       completing a tip-off form on our website at ato.gov.au/tipoff or in the 'contact us' section of the ATO app (available from the App store)
·       phoning the Tax Integrity centre on 1800 060 062
The ATO also has a specific compliance focus on the correct reporting of income.  We use information reported by businesses, third-party data, and community information to ensure small businesses are correctly declaring their income. We have sophisticated data-matching and analytical tools in place that enable us to identify people that may be under-reporting their income from a range of activities.
The ATO is committed to ensuring the tax and super system remains fair, ensuring a level playing field for all businesses. Businesses who are not declaring income and not complying with their tax and super obligations are contributing to the shadow economy. The ATO will actively deal with those intentionally doing the wrong thing.