Under Investigation: A campfire hiding secrets, missing drone and the mysterious disappearance of two campers in remote Victoria
No one knew that Carol Clay and Russell Hill, both in their seventies, were secret lovers whose affair spanned decades. No one knew about their secret camping trips to Victoria's wild and beautiful high country until they vanished last year.
Were they murdered? Did they get lost in the rugged and hostile bush or have they run away?
On Under Investigation, with Liz Hayes, a team of expert criminal minds have investigated this mystery of the high country.
The affair
The only thing police know for sure is that experienced bushman Russell Hill, 74, and 73-year-old Carol Clay, a hardworking member of the Country Women's Association, were secret lovers.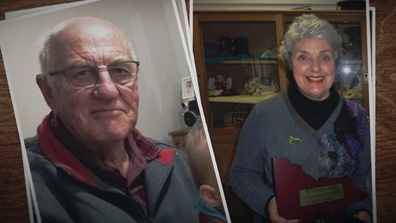 Carol was divorced but Russell was still married. After a lifetime of secret love, it is possible the pair disappeared to begin a new life together.
The location
In the most remote corner of Victoria, nearly 400 kilometres from Melbourne, Russell and Carol set up camp for a romantic escape together on Wonnangatta River.
"There was a stage where it was named the most isolated cattle property in the Southern Hemisphere," says local musterer Lachlan Culican, who was called in to help police with the search for the couple.
"I don't think any one of us knew, or do know, the country and the landscape and the behavioural weather patterns and stuff up there any better than Russell," Rob said.
For our Under Investigation experts, there is compelling evidence that an intruder may have come into Carol and Russell's campsite.
At 2pm that Saturday afternoon, a passer-by came across Russell and Carol's campsite.
It had been completely destroyed by fire.
Rob Ashlin believes it is clear his friend encountered trouble.
"When the pictures started rolling in of the burnt-out campsite, I could see characteristics, in my opinion, that weren't Russell," he said.
Much of the camp site was destroyed by what appears to be a suspicious fire and in the ashes were unusual items such as a drum, seats and gas bottle.
The question now for former police officer and fire forensics expert Greg Kelly is what vital clues lie in the ashes.
"Russell's not the type of guy that's going to walk away and leave a fire burning. For that to then become an uncontrolled fire and burn the tent down and everything around it, I would find highly unusual," he said. Watch the interview above.
"Using fire to destroy physical evidence where something untoward has happened has been known in criminal investigation for as long as it existed."
The drone
For the Under Investigation team, Russell's missing drone remains particularly mystifying. It adds weight to the theory that he may have seen something or someone involved in an illegal activity.
"It might be something to do with the fact that drones take images. Maybe something's happened here, there's been an altercation. Someone's pulled a phone out and started doing stuff," he said.
Lachlan Culican believes there may have been hunters operating illegally in the area where Russell and Carol were camped. He says a stray bullet may have hit one of them and the hunters have gone to extreme measures to cover it up.
"There are people that get into the bush, into this sort of country, they're shooting guns around. It does happen," Valentine said.
The wild dogs
There's one aspect of the high country that may be working against police forensic investigators and that's the area's large and growing population of wild dogs.
If the couple's bodies were disposed of nearby, wild dogs in the area might ensure they will never be found.
Lachlan Culican has spent most of his life in the high country and having knowledge of the marauding wild dogs, he believes they could pose a threat to the couple's safety.
"If they're hungry enough. They could probably have a go. If they did corner you, I wouldn't like your chances if you couldn't get up," he said. Watch the interview above.
The whereabouts of Russell and Carol remains a mystery.