Tim Tszyu dismantles Dennis Hogan in dominant fifth round TKO victory
Tim Tszyu overcame an early and nasty cut to his eye to dismantle Brisbane based Irishman Dennis Hogan with a brutal win inside five rounds.
Such was Tszyu's dominance that Hogan's corner through in the towel late in the fifth round to give the Sydneysider his 18th straight victory.
But Tszyu had to dig deep throughout as Hogan caught him with a few overhand right hands early on. Tszyu started the fight a bit frantic and seemed to be looking for an early finish.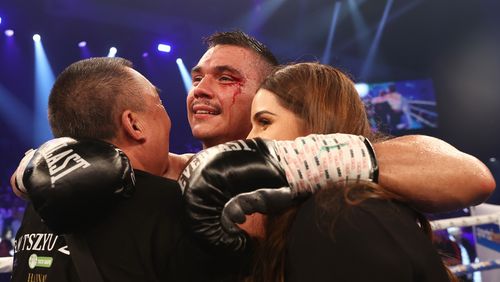 Hogan dealt with the onslaught well and managed to stay in the fight and looked comfortable in round two when the clash of heads caused Tszyu a couple problems.
However the next round, the WBO No.1 super welterweight contender started working the body with huge success.
Tszyu challenged Hogan front on and broke him down with some huge liver shots that hurt Hogan so much that he had to stop fighting for a moment to catch his breath. Tszyu went in for the kill but he hung on but it was only a matter of time from that point.
Tszyu settled down the next two rounds and got into a rhythm and it was clear Hogan was on borrowed time. Hogan's trainer Stephen Edwards said after the fourth.
"Another round like that and I'm stopping it."
A huge uppercut rocked him in the beginning of the fifth and Hogan dropped but he beat the count. He got up and stayed in the fight for another a minute or so before Tszyu went to the body again and Edwards, true to his word, threw in the towel to end it.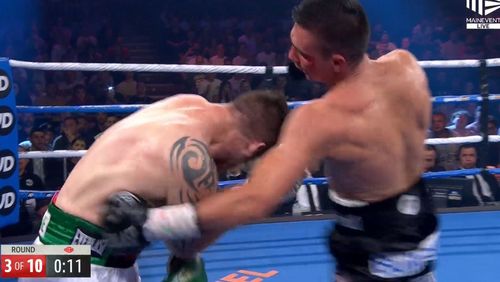 The fight was officially called at 4.30 in Round 5.
"Look the calibre of my opponent Dennis Hogan, two-time world title challenger and to get him out quicker than Charlo it's not a bad achievement," said Tszyu in the post-fight interview.
"I knew I was going to take him to the deep end and let him sink."
Tszyu was asked about his ferocious body shots and the fact that he had knocked down several sparring partners in the lead up to the fight with similar blows.
"This is not tip-tap we're not dancing around we're punching each other. I'm going to hurt my opponents. Much respect to them outside the ring but in the ring this is my kingdom. This is where I take control.
"I could see from round two, I was warming up I could go another seven more rounds of this pace and even more.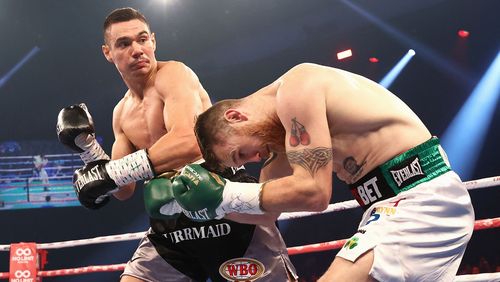 "We've got to come back and do this again. I fought all around Australia and this is by far the best place I've been to. I love you all Newcastle. We will be back."
When quizzed about his next opponent, Tszyu deferred to his promoters and manager but said he wants the "real straps" Down Under before sending a message to his fans in Russia.
Boxing legend Jeff Fenech was extremely impressed with how Tszyu got the win this time and how he had to battle for parts of the fight.
He said the fact that Tszyu defeated Hogan within a quicker time frame than middleweight champion Jermall Charlo, was an indicator that Tszyu was the real deal and will fight for world titles in the future.
"I saw this coming, Tim stepping up in class. He's getting better and better. Dennis Hogan was throwing big punches but Tim had an answer for everything.
"I know Charlo hit him and hit him hard but not as many times as Tim Tszyu did that's for sure."