Three people hospitalised after major hydrochloric acid leak at Sydney aquatic centre
A dangerous chemical leak at a Sydney swimming pool has caused the mass evacuation of swimmers and left children choking on the fumes.
The leak at the Hurstville Aquatic Leisure Centre on Monday released a toxic vapour cloud into the communal area of the pool, sparking the evacuation of 150 people, three of whom were sent to hospital.
A faulty valve was believed to have caused 70 litres of hydrochloric acid to spill out into the spa area.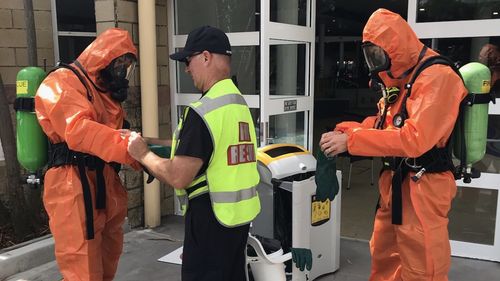 Fire and Rescue NSW crews were first called to the centre on King Georges Road about 10am following reports of a "strong toxic smell".
Nine people, including at least five children, were treated at the scene after inhaling the fumes.
Three patients – two adults and a child – were taken to St George Hospital in a stable condition.
"We had one elderly gentleman at the front of the building who was complaining of chest pain and breathing difficulties," NSW Ambulance Inspector David Stride said.
"He was actually transported by intensive care ambulance to St George Hospital.
The leak was caused by a faulty anti-siphoning valve in the plant room that regulated acid usage, the centre said in a statement.
The cloud of toxic vapour dispersed throughout the day. The centre is expected to reopen as usual from 5.30am on Tuesday.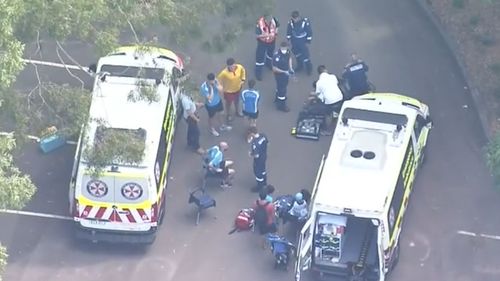 Fire and Rescue NSW Inspector Brad Smith said staff did a fantastic job treating six people overcome with fumes.
Hydrochloric acid is used to decontaminate swimming pools but is corrosive to humans if not handled properly.
"When a patient is exposed to any type of chemical there's always an unknown to the extent of their injury," Inspector Stride said.
"Incidents like this can happen in a matter of seconds so it's always important to be aware of your surroundings."