Thousands of SES volunteers ready as flood warnings intensify
Thousands of SES volunteers are on standby and flood rescues have already begun as dangerous rains sweep south down eastern Australia.
Constant rainfall has swamped roads and a school was evacuated on the NSW Mid North Coast.
Coffs Harbour and Port Stephens are among the worst-hit areas, with sandbagging taking place around vulnerable homes.
A severe weather warning is in place for the coast from just south of Yamba, to just north of Gosford.
Kempsey, north of Port Macquarie, has had 142mm of rainfall since 9am, according to the Bureau of Meteorology.
Meanwhile, Port Stephens Council has a list of road closures.
Coffs Harbour also has multiple roads closed.
Send us your weather and flooding pictures to onlinenews@9news.com.au
BOM experts say conditions could get worse there, ahead of the wild weather moving south to the Hunter, Sydney and Illawarra on Friday and into the weekend.
Agata Imielska from the BOM warned that with the ground already wet it "won't take much rainfall" to cause flooding, with "dangerously wet conditions" possible.
"We are expecting some widespread heavier falls, potentially up to twice the amounts that may be recorded in nearby regions," she said.
"It's really about the amount of time this rainfall will fall.
"You're really increasing the risk of flash flooding."
People in Sydney in particular should keep across weather updates into the weekend.
BOM Flood operations manager Justin Robinson he's "very concerned about the potential for flooding along the coastal rivers".
The list of rivers at risk at the weekend include Sydney's Hawkesbury, Georges and Nepean – though any flooding is likely to be minor or moderate – with many further north in the state under warnings.
Flash floods are also possible in the Sydney metro area.
"We expect that rainfall to move south today and into the weekend and we'll see that flooding develop in the Hunter and into areas around Sydney," Mr Robinson said.
The SES has already had 135 calls for help, mainly on the NSW Mid North Coast.
There are 2000 SES volunteers in place on the Mid North Coast, and a further 4500 in Sydney.
A severe weather warning is in place for the Mid North Coast between Yamba and Gosford, with flash flooding reported.
That includes Coffs Harbour, Port Macquarie, Taree, Kempsey, Newcastle, Gosford, Cessnock, Maitland, Woolgoolga, Sawtell, Dorrigo and Dungog, the Bureau of Meteorology said.
Heavy rainfall leading to flash flooding is underway on the Hunter coastline, with more likely to develop in Friday.
Intense rainfall and damaging winds averaging 60km/hr-79km/hr are predicted for Friday morning.
Bishop Druitt College in Coffs Harbour was forced to send students home.
There are also warnings for hazardous surf, and for road weather dangers in Sydney.
It said on Facebook it has "made the decision to evacuate the premises due to increased localised rain and high tide peaking at 12pm today, potentially closing North Boambee Road access to the school".
However, drought-stricken areas including Dubbo are celebrating the best rain in five years, according to Weatherzone.
More rain is expected inland next week.
Check the NSW weather warnings at the BOM website.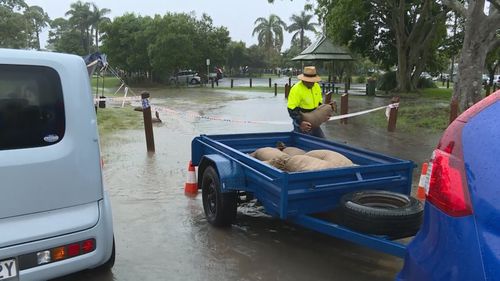 The SES said it has had calls from people asking for sandbags, plus reports of leaking or damaged roofs, and trees down.
The Tomaree SES unit, which covers the Hunter area north of Newcastle, was the busiest, followed by Foster Pacific Palms and Coffs Harbour City units.
Chief Superintendent Greg Swindells from the SES said they are well prepared on the Mid North Coast, with plans underway to scramble volunteers in Sydney.
"What we urge the community to do is to take notice, listen, as these are updated from watchings to warnings," he said.
He said the service's 4500 volunteers in Sydney are being told to be prepared to help.
He reminded people never to drive through floods and said people should consider putting off travel this weekend.