The downfall of Elizabeth Holmes How whistleblowers helped expose one of the biggest medical frauds in history
Elizabeth Holmes promised the world a healthcare revolution and made a fortune along the way.
Her start-up company, Theranos, became the darling of Silicon Valley thanks to a miniaturised machine she claimed could diagnose up to 200 diseases from a single finger prick of blood.
Alongside her business partner and then-secret lover, Ramesh "Sunny" Balwani, Holmes turned the business into a $9 billion juggernaut.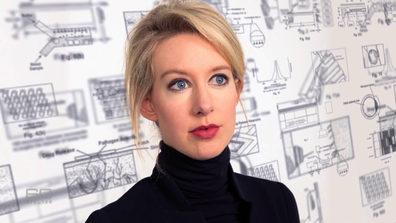 But it was all built on a lie.
Her supposed medical miracle didn't work, and even worse, it was potentially putting lives at risk as a result.
'Day one working with it, it was obvious that it didn't work'
But the world may never have known her outrageously dangerous lie if it wasn't for two of Holmes' own scientists, who risked everything to expose the truth.
"It's a bit of a heart-breaking tale, because there was so much potential," Erika Cheung told 60 Minutes reporter Tara Brown.
When they first joined Theranos, Cheung and Tyler Shultz were both fans of Elizabeth Holmes and believed they could help her change the world.
But the young pair's optimism quickly evaporated when they were given access to her fabled blood testing machine.
"Day one working with it, it was obvious that it didn't work," Schultz told 60 Minutes.
No matter how many tests they ran, the device failed to deliver reliable results, but that didn't stop Holmes and Balwani from spruiking it to the world.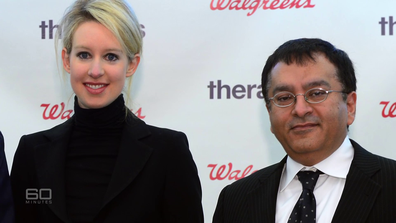 Their cavalier, non-stop promotion of the machine was alarming.
"All of a sudden it's just like nothing works, we're on a sinking ship and we cannot bail out water fast enough," said Shultz.
But then it became even more dangerous.
Inconceivably, Holmes and Balwani decided to roll out the "faulty technology" for use on real patients, appalling the young scientists and galvanising them to speak out.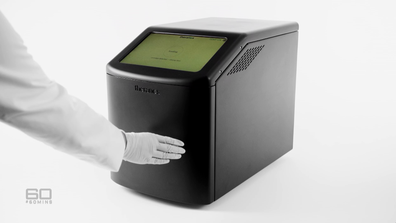 "We can't stand for letting people treat people this way and just get away with it with no consequence," Cheung said.
They began by taking their concerns to the top of the company but when that got them nowhere, Shultz turned to family.
'You're choosing a criminal over your own family'
His grandfather George Shultz, a former US secretary of state, had first introduced him to Elizabeth Holmes in 2011 before joining Theranos' board of directors.
The then-91-year-old was unaware the so-called genius was peddling a scam, but when Shultz tried to warn his grandfather in 2014, he shockingly sided with Holmes.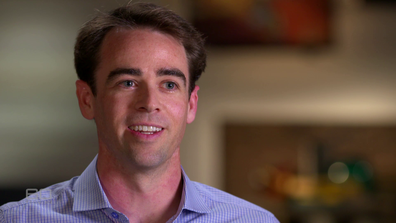 "I said 'you're choosing a criminal over your own family', and it's still not easy to get those words out," Shultz recalled.
It wasn't until the whistleblowers spoke to investigative journalist John Carreyrou in 2015 that the Theranos fraud was first revealed.
But Carreyrou's investigation was the beginning of an intense campaign of bullying and harassment from the company towards Cheung and Shultz.
"I ended up spending around $500,000 in legal fees to protect myself," Shultz said.
"It definitely takes a lot of strength to do something like this. Whistle-blowing should really be a last resort," Cheung told Brown.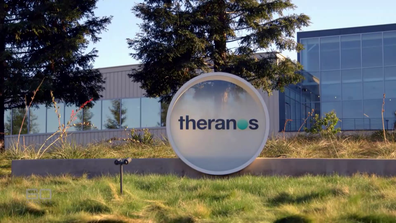 Elizabeth Holmes and Ramesh Bulwani were both convicted of fraud earlier this year and could now each face up to 20 years behind bars.
It was vindication for Cheung and Shultz, whose fight to expose them came at a huge cost and consumed 10 years of their young lives.
Shultz's relationship with his grandfather never fully recovered, with George Shultz unable to bring himself to apologise.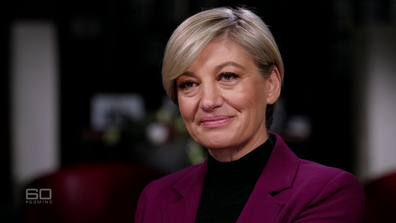 He died last year, aged 100.
Shultz and Cheung joined Theranos hoping to save lives, and by shining a light on what they saw within its walls, they could very well have done just that.
"The toughest part is trusting yourself enough to realise and recognise that the truth will prevail one way or another," Cheung said.