Suspect held for repeatedly kicking Asian American woman in New York
Police in the US have arrested a man suspected of attacking an Asian American woman in New York City, kicking her repeatedly in the stomach as witnesses appeared to only watch.
The 65-year-old woman was admitted to hospital with serious injuries.
CCTV video from Monday appears to show staff of a nearby building watching without intervening.
Police said the suspect, Brandon Elliot, had been charged with attempted assault as a hate crime.
The 38-year-old was already subject to a lifetime parole order after fatally stabbing his mother in 2002, and was released from prison in 2019, police said.
A tweet below contains scenes of violence.
On Tuesday, Joe Biden said he could not be silent "in the face of rising violence against Asian Americans".
The president announced additional steps to address anti-Asian crimes.
Six of the victims of a gun attack in Atlanta two weeks ago which killed eight in total were Asian women.
In the latest incident in New York City, footage shared by police appears to show a man approaching a woman in the street and kicking her to the ground.
While she is lying on the floor outside a building entrance, he kicks her again in the stomach and in the face.
Several security staff in the building appear to watch the attack while one man uses a telephone.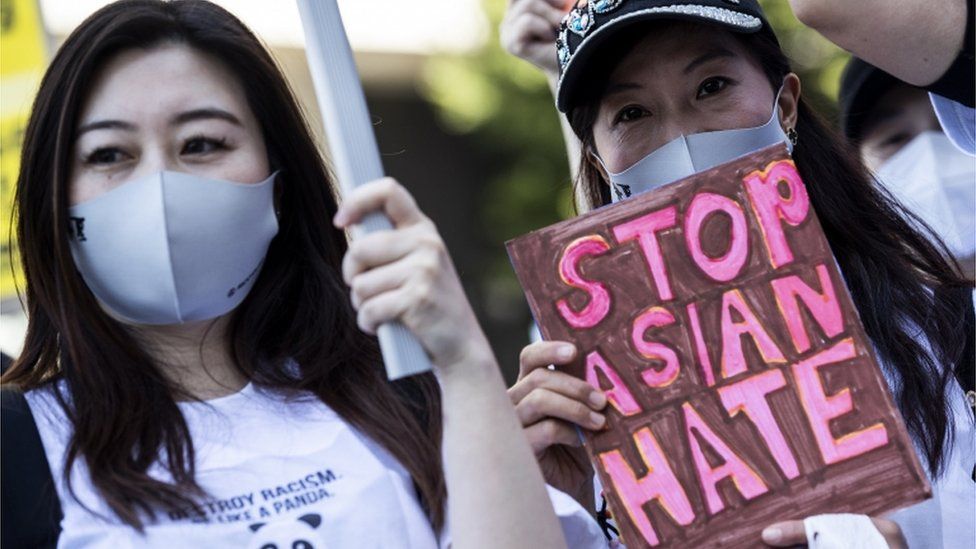 New York City Mayor Bill de Blasio has condemned the assault as "absolutely disgusting and outrageous".
Police said the incident took place in Manhattan on Monday morning and asked for anyone with information to come forward.
The suspect had made anti-Asian statements, they said.
The managers of the building wrote on Instagram that the staff who witnessed the attack had been suspended while an investigation is carried out.
"We are extremely distraught by the horrific attack that occurred outside our building," the Bordsky Organization wrote, adding that it condemns violence against Asian Americans.
New York City Mayor Bill de Blasio said it was "absolutely unacceptable" that witnesses did not intervene.
More than 3,795 incidents were reported to the organization Stop Asian Americans and Pacific Islanders (AAPI) Hate from 19 March last year to 28 February this year, according to a report.
This probably accounts for just a fraction of attacks, the organisation explained.
The FBI warned at the start of the Covid outbreak in the US that it expected a surge in hate crimes against those of Asian descent.
Nationwide statistics recording hate crimes in 2020 have not yet been released, but many Asian American people say they have observed a rise in insults and attacks.
The New York City hate crimes task force investigated 27 incidents in 2020, a nine-fold increase from the previous year.
What is Biden's plan to tackle anti-Asian racism?
On Tuesday President Joe Biden announced plans to tackle the rising anti-Asian violence.
He said the government will publish interactive data on hate crimes as well as train national and local police in responding to hate crimes.
The White House also pledged to remove language barriers to reporting hate crimes.
Some victims of racist attacks are reluctant to come forward because they fear not being taken seriously by police or other officials.
Mr Biden also announced that funding of around $50 million will be available to support victims of domestic violence and sexual assault, including victims from the Asian American community.
Last week two Senators from Mr Biden's Democrat party criticised his administration for what they said was a lack of representation of Asian Americans at the highest level of government.
In response the White House said it would appoint an official to focus on Asian American issues