Prince Harry and Meghan Markle reportedly invited to King Charles' coronation
Prince Harry and Meghan Markle have reportedly been invited to King Charles' coronation but are yet to confirm whether they'll go.
After much speculation regarding the Sussexes' attendance at Harry's father's official crowning, a spokesperson for the couple today confirmed they had "recently received email correspondence from His Majesty's office regarding the coronation".
"An immediate decision on whether the Duke and Duchess will attend will not be disclosed by us at this time," the spokesperson told The Times.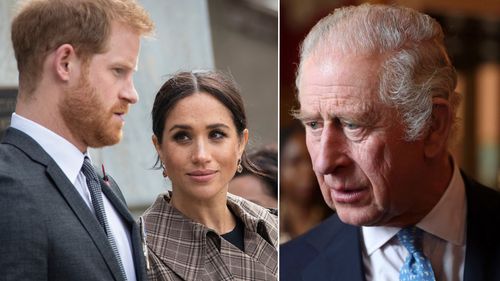 The coronation is on May 6, the same day as their son Archie's birthday.
Speculation regarding the US-based royals' attendance at the ceremony has increased in recent days, following their eviction from their official United Kingdom residence, Frogmore Cottage.
It has reached the point some believe the couple will be a distraction no matter where they are for Britain's first coronation in seven decades.