Novak Djokovic declares 10th Australian Open title 'biggest victory in my life
Novak Djokovic had too much class for Stefanos Tsitsipas on Sunday night, withstanding the challenge posed by the Greek as he capped his Australian Open comeback in winning fashion.
Djokovic trumped Tsitsipas 6-3, 7-6 (4), 7-6 (5) at Rod Laver Arena, extending his unmatched number of Australian Open titles to 10 and drawing level with Rafael Nadal's record 22 grand slam crowns.
The Serbian champion's win also means he will steal the world No.1 mantle from Spanish whiz-kid Carlos Alcaraz when the ATP rankings are recalculated on Monday.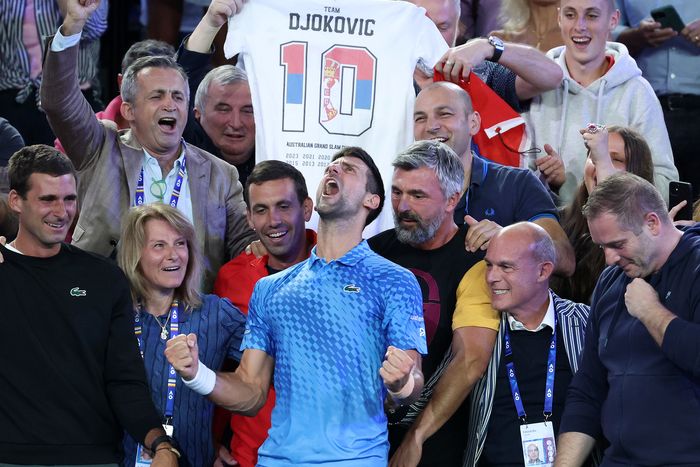 Djokovic didn't have a chance to continue his Australian Open dominance in 2022, having been deported from the country due to his COVID-19 vaccination status.
But he returned to Australia with a vengeance this year, storming to glory at the Adelaide International and continuing to thrive in the Melbourne major.
A troublesome left hamstring added to Djokovic's adversity, which materialised in the 35-year-old being overcome by emotion after his conquering of the final.
His immediate reaction was subdued when a thumping, sharply angled forehand brought about the winning moment, the veteran gazing toward his team before pointing to his temple and his heart.
But moments later, Djokovic was lying on the ground in the stands balling his eyes out, his team standing over him.
He then took a seat courtside, buried his face in a towel and continued to cry tears of delight.
Djokovic tells kids to 'dream big'
"We've seen lots of celebrations from him here, but this one seems to mean the most," Jim Courier said on the Nine coverage.
Djokovic placed this title above all others during his victory speech.
"I just have to say this because only the team and the family knows what we've been through in the last four or five weeks," Djokovic said.
"This probably is the, I would say, biggest victory in my life considering the circumstances."
The final was a contest of polar opposites. While Tsitsipas' performance was a mix of aggressive forehands, rushing to the net and unforced errors, Djokovic's game was encapsulated by his stonewall defence, phenomenal coverage of the court and calmness under pressure.
Djokovic opens up on 'special' victory
Tsitsipas had a set point in his keeping as he led 5-4 in the second, but what followed was a grinding baseline rally won by Djokovic when he fired an unreturnable forehand. He proceeded to hold serve in that game.
Tsitsipas again threatened to begin a resurgence when he broke his rival's serve in the first game of the third set, but in another statement of resistance, Djokovic broke back immediately.
Djokovic then captured five points in the third-set tiebreak before Tsitsipas snared his first, charging toward victory in unstoppable style.