Myanmar coup 'Everything will be OK' teenage protester mourned
Crowds gathered in Mandalay on Thursday for the funeral of a 19-year-old woman who was shot dead during Myanmar's anti-coup protests a day earlier.
Kyal Sin, known as Angel, was wearing a T-shirt with the phrase "Everything will be OK" when she died.
Tributes have flooded in on social media, with many calling her a "hero".
Since the 1 February military coup, Myanmar has been gripped by protests demanding the release of detained elected leaders.
More than 54 people have died since the protests began, according to the UN Human Rights Office, although other reports put the figure much higher.
UN High Commissioner for Human Rights Michelle Bachelet called on security forces to "halt their vicious crackdown on peaceful protesters".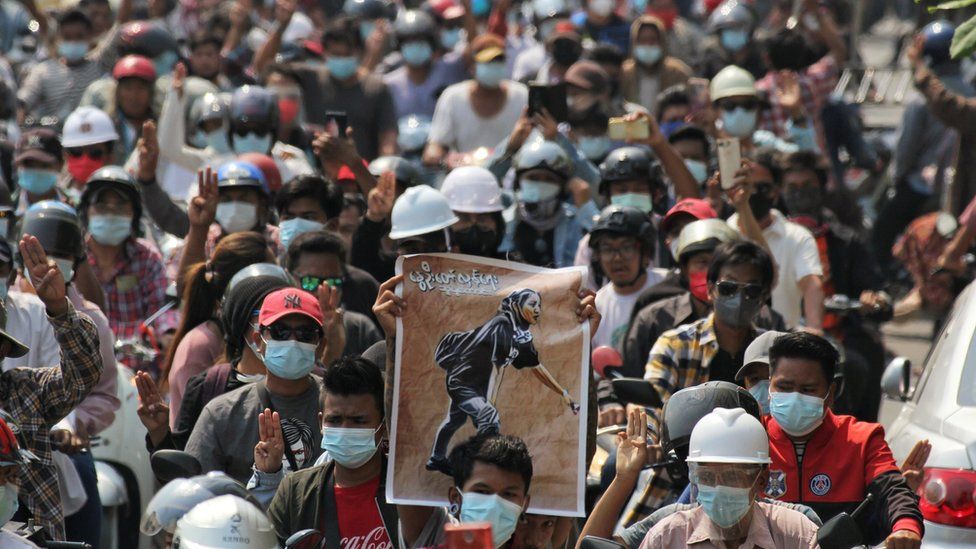 On Thursday in Mandalay, people lined the route of Angel's funeral procession.
Mourners sang revolutionary songs and chanted anti-coup slogans, Reuters news agency reports.
Images of the teenager wearing her "Everything will be OK" T-shirt at the protests had gone viral.
Aware of the dangers of taking part in the protests, she had written her blood type details on Facebook and requested that her body organs be donated in the event of her death.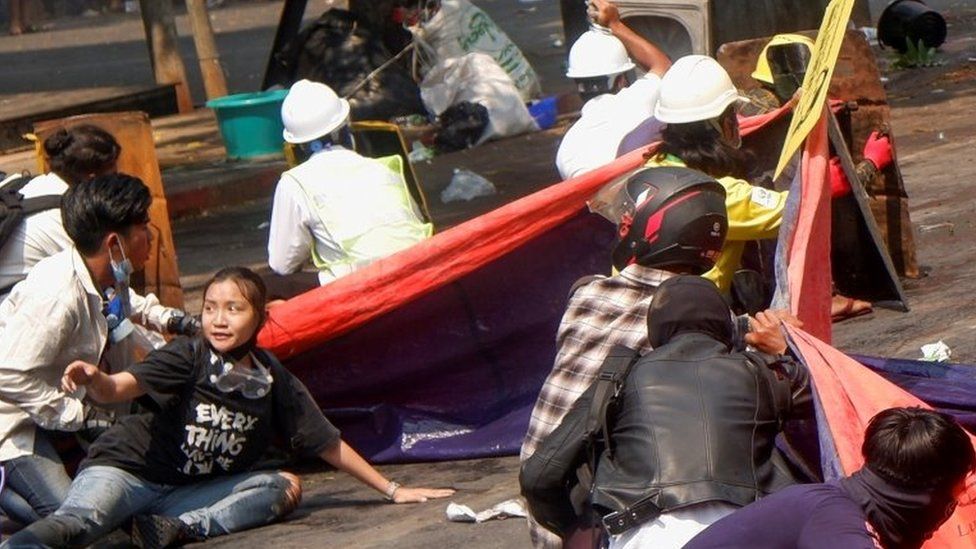 Myat Thu, who was with her at the protest on Wednesday, said she had kicked open a water pipe so protesters could wash tear gas from their eyes. She had also tried to help him as police opened fire.
"She told me 'Sit! Bullets will hit you'," he told Reuters. "She cared for and protected others."
He said police hit them with tear gas and then the bullets came.
Myat Thu said Angel, who had proudly voted in elections for the first time last year, was a "happy girl".
"She loved her family and her family loved her so much too," he said. "We are not in a war. There is no reason to use live bullets on people"
People also paid tribute to Angel on social media. One friend wrote on Facebook: "My heart feels so my hurt."
Another said: "Rest in peace my friend. We will fight this revolution to the end."