Marjorie Taylor Greene accused of 'verbal assault' on Alexandria Ocasio-Cortez
US House of Representatives Speaker Nancy Pelosi has called for an ethics inquiry into a Republican for a "verbal assault" on another lawmaker.
In the halls of Congress, Marjorie Taylor Greene reportedly accused New York's Alexandria Ocasio-Cortez of supporting "terrorist" groups.
Ms Ocasio-Cortez later said her antagonist was the kind of person she used to throw out of bars.
Both lawmakers are lightning rods for criticism on the right and left.
Mrs Greene last month challenged Ms Ocasio-Cortez, known as AOC, to debate the latter's proposed climate legislation, the Green New Deal.
According to Washington Post reporters that witnessed Wednesday's confrontation, Mrs Greene approached AOC in the House chamber, saying "Hey Alexandria" twice, as the other woman ignored her and continued walking away.
The Georgia congresswoman, known as MTG, then reportedly raised her voice to call antifa, a loosely knit group of far-left activists, and Black Lives Matter "terrorist" groups.
She also called Ms Ocasio-Cortez a "radical socialist", adding: "You don't care about the American people."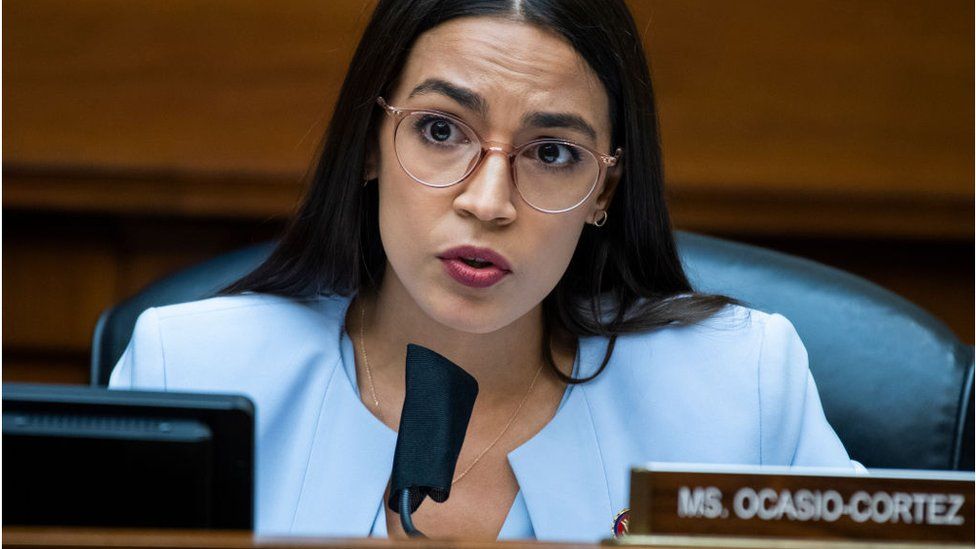 Ms Ocasio-Cortez – a self-described democratic socialist – threw her arms up as she continued to walk away, reporters say.
She said something in response, but it was not overheard by reporters and her office declined to say what it was.
Before leaving, Mrs Greene spoke to reporters to call Ms Ocasio-Cortez "a chicken", a "coward" and "pathetic".
At a press conference on Thursday, Mrs Pelosi – the most senior Democrat in Congress – condemned the "verbal assault and abuse of our colleague".
"It's so beyond the pale of anything that is in keeping with bringing honour to the House [of Representatives]," she said, calling it "a matter for the Ethics Committee".
"This is beneath the dignity of a person serving in Congress," Mrs Pelosi continued, calling it "a cause for trauma and fear among members".
Ms Ocasio-Cortez called it a case of "intimidation" on Thursday, saying: "I used to work as a bartender. These are the kinds of people that I threw out of bars all the time."
"I refuse to allow young women, people of colour, people who are standing up for what they believe, to see this kind of intimidation attempts by a person who supports white supremacists in our nation's capital," she added, referring to the Trump supporters who stormed the US Capitol in January.
In response, Mrs Greene told reporters: "She throws out paying customers, is what she's saying?"
"I was telling her, you need to debate me, you need to defend your policy," she added. "There is nothing wrong with that."