Mammoth cleanup begins for flood victims as communities still cut off
Receding waters levels around New South Wales have begun to expose the full extent of flood devastation as thousands return home to collapsed homes and businesses.
Images from the air show extensive damage in the Hawkesbury region as river levels drop for the first time since Sunday.
The mammoth clean up has begun after days of torrential rain, but in many places water is still lapping homes along the Hawkesbury.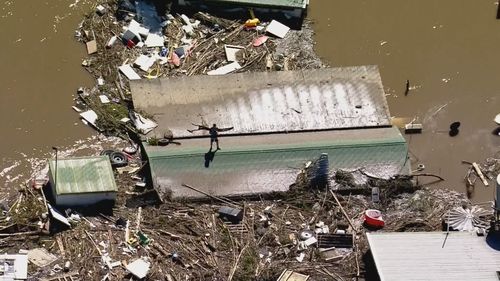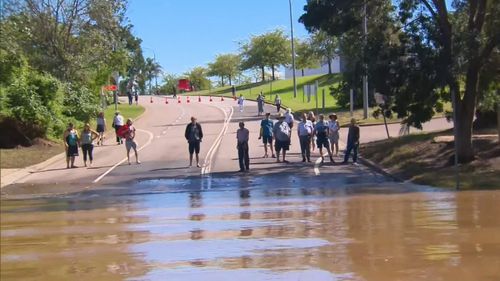 At Lower Portland a caravan, trees and tyres have turned up. At Windsor residents are sifting through soggy belongings to see what can be salvaged.
A landslide near Mt Tomah has closed the Bells Line of Road has left North Richmond an island.
The supermarket is struggling to keep up, shelves are stripped as soon as they're stocked and bread and fruit are in short supply.
Urgent medical supplies are being dropped in but no mail has been delivered for days leaving the post office and many others without work, or a pay cheque.
The Hawkesbury Highway – pretty much the only way in and out of north Richmond – is still blocked off.
It will take days before the water recedes. and days more before the roads are declared safe enough to drive on.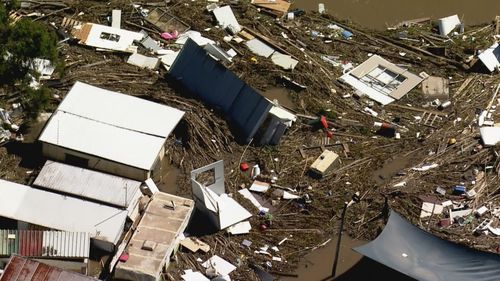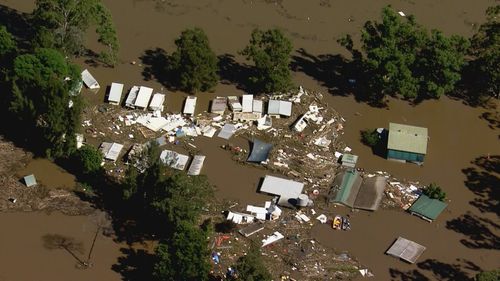 Earlier, more than 3000 people were able to return to their communities after six evacuation alerts were lifted overnight.
"We appreciate it will be a very challenging time for people today and tomorrow as they go back to their homes and their properties," NSW Premier Gladys Berejiklian said earlier.
The premier said she is expecting the recovery effort to take "weeks".
"I want to stress to communities, no matter where you are, that if you have been allowed to return, you can be rest assured that our teams are in place to support you in the clean-up efforts," she said.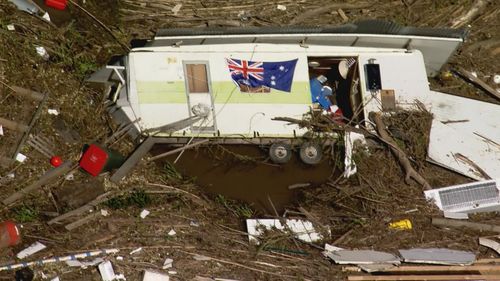 "Good weather again today will allow us to resupply a number of areas, particularly on the Hawkesbury River," NSW State Emergency Service Commissioner Carlene York said.
"There are many supplies being loaded on to helicopters and our boats to go out to those communities, and restocking some of those supermarkets, which is good news.
"We will be now sending in teams to assess the damage in the areas that have been affected."
Emergency services will also be focused on providing support to communities still in the midst of the flood crisis in the northern parts of the state around Moree and Grafton.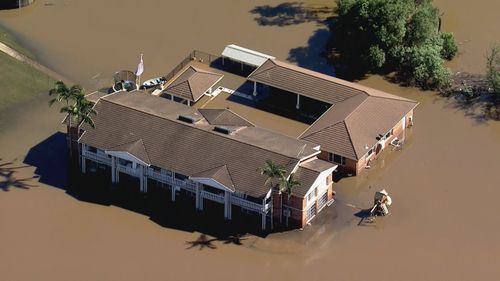 "Today, we're really about the resupply and looking after those people that have been evacuated overnight, making sure they're safe and looked after," Commissioner York said.
Flood clean-up is also underway in Port Macquarie, Kempsey and Taree today which were some of the areas worst hit in recent days.
Led by Resilience NSW, volunteers from the Rural Fire Service and NSW Fire and Rescue are now assisting the Australian Defence Force going "house to house and house" and delivering essential supplied to impacted communities.
The state is not expected to see any more rain for at least six days which the government hope will assist with the mammoth clean-up.