Japan expands state of emergency ahead of Tokyo Olympics as online petition to cancel games reaches over 350,000 signatures
Japan is further expanding a coronavirus state of emergency to three additional areas ahead of the Tokyo Olympics.
The state of emergency is currently in Tokyo and five other prefectures. The additions include Japan's northern island state of Hokkaido, where the Olympic marathon will be held, as well as Hiroshima and Okayama in western Japan.
Bars, karaoke parlours and most entertainment facilities are required to close. Business owners who comply will be compensated; those who don't could face fines.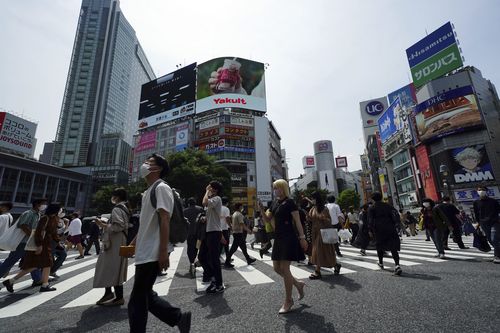 The expansion of the state of emergency is a major shift from the government's initial plan that relied on less stringent measures.
Japan has been struggling to slow coronavirus infections ahead of the postponed Olympics, which are scheduled to start July 23.
The news comes as an online petition with more than 350,000 signatures calling for the Tokyo Games to be cancelled was submitted Friday to local organisers, the International Olympic Committee and others.
The Olympics are scheduled to open in just 10 weeks on July 23 in the midst of a pandemic with Tokyo and other areas under a state of emergency. Cases continue to rise in Japan, where less than 2 per cent of the population has been fully vaccinated.