Iran executes karate champion of allegedly killing a paramilitary volunteer during a demonstration, the latest executions aimed at halting the nationwide protests now challenging the country's theocracy.
Iran's judiciary identified those executed as Mohammad Mehdi Karami and Mohammad Hosseini, making it four men known to have been executed since the demonstrations began in September over the death of Mahsa Amini.
All have faced internationally criticised, rapid, closed-door trials.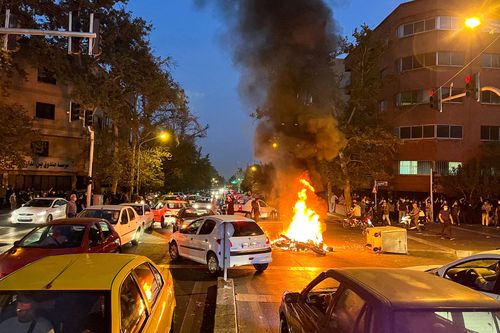 The judiciary's Mizan news agency said the men had been convicted of killing Ruhollah Ajamian, a member of the Iranian Revolutionary Guard's volunteer Basij force, in the city of Karaj outside of Tehran on November 3.
The Basij have deployed in major cities, attacking and detaining protesters, who in many cases have fought back.
Heavily edited footage aired on state television showed Karami speaking before a Revolutionary Court about the attack, which also showed a reenactment of the attack, according to prosecutors' claims.
Iran's Revolutionary Courts handed down the two other death sentences already carried out.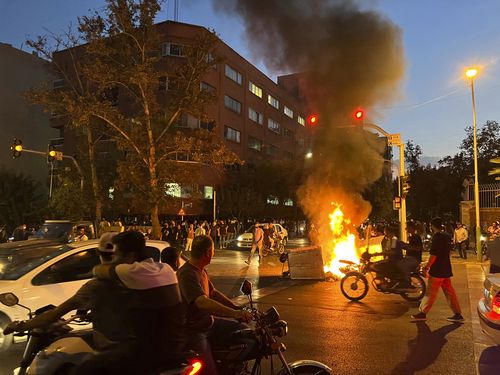 The tribunals don't allow those on trial to pick their own lawyers oreven see the evidence against them. Amnesty International has said the trials "bore no resemblance to a meaningful judicial proceeding."
State TV also aired footage of Karami and Hosseini talking about the attack, though the broadcaster for years has aired what activists describe as coerced confessions.
The men were convicted of the killing, as well as "corruption on Earth," a Quranic term and charge that has been levied against others in the decades since the 1979 Islamic Revolution and carries the death penalty.
Mohammad Hossein Aghasi, a lawyer advocating for Karami, posted to Twitter Saturday saying that Karami was not given final rights to speak to his family before his execution. The lawyer added that Karami had begun a dry food hunger strike Wednesday as a form of protest against officials for not allowing Aghasi to represent him.
As many as 41 more protesters have received death sentences in recent months, according to statements from both Iranian officials and in Iranian media reviewed by CNN and 1500Tasvir, but the number could be much higher.
Activists say at least 16 people have been sentenced to death in closed-door hearings over charges linked to the protests. Death sentences in Iran are typically carried out by hanging.
Meanwhile, the politics editor of independent Iranian newspaper Etemad Online, Mehdi Beyk, was detained on Thursday, according to a tweet from the publication.
Beyk was detained by officials from Iran's Ministry of Information, his wife, Zahra Beyk, said on Friday.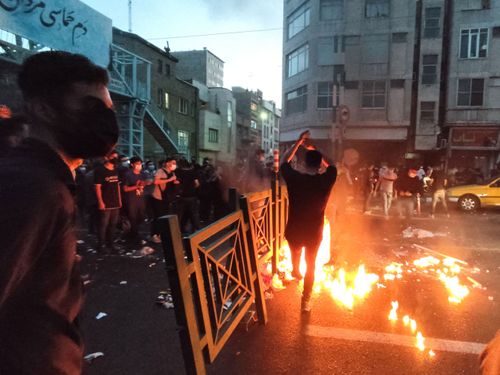 He was arrested after he "interviewed the families of several of those arrested in the ongoing demonstrations," according to pro-reform activist outlet IranWire.
The journalist's "mobile phone, laptop, and belongings were confiscated," his wife tweeted. It is unclear so far why Beyk was arrested.
Iranian officials have previously arrested some individuals for their criticism of the government's response to the demonstrations.
One of the biggest challenges to Iran since 1979 revolution
At least 517 protesters have been killed and over 19,200 people have been arrested, according to Human Rights Activists in Iran, a group that has closely monitored the unrest. Iranian authorities have not provided an official count of those killed or detained.
The protests began in mid-September, when 22-year-old Amini died after being arrested by Iran's morality police for allegedly violating the Islamic Republic's strict dress code. Women have played a leading role in the protests, with many publicly stripping off the compulsory Islamic headscarf, known as the hijab
.
The protests mark one of the biggest challenges to Iran's theocracy since the 1979 revolution. Security forces have used live ammunition, bird shot, tear gas and batons to disperse protesters, according to rights groups.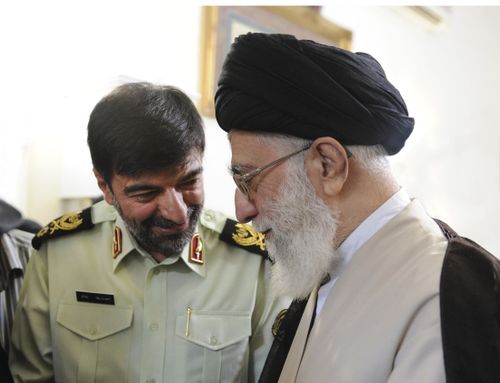 Also on Saturday, Iran's supreme leader Ayatollah Ali Khamenei appointed a new hard-line chief of police, the official IRNA news agency reported.
Gen. Ahmad Reza Radan replaced outgoing Gen. Hossein Ashtari after Ashtari's eight-year term of service ended.
Radan, who served as acting commander of police from 2008-2014, is known for his harsh handling of protesters during post-election turmoil in 2009. He also imposed measures against women wearing loose Islamic veils and young men with long hair.
The US and Europe imposed sanctions on Radan for human rights violations in 2009 and 2010.
He has been in charge of a police research centre since 2014.
Tributes to the two executed men
Karami, 21, was an Iranian-Kurdish karate champion who sported a tattoo of the Olympic rings on the inside of his arm. His cousin told CNN that Karami was a brave, intelligent boy and got into karate at age 11. He went on to join the Iranian youth national team and later won at the national championships.
Last month Karami's parents posted a video to social media begging the state to spare his life. His father said, "My son is among the karate champions of Iran and has several national titles and was the fourth ranked member on Iran's national team … I beg of you to please lift the execution order."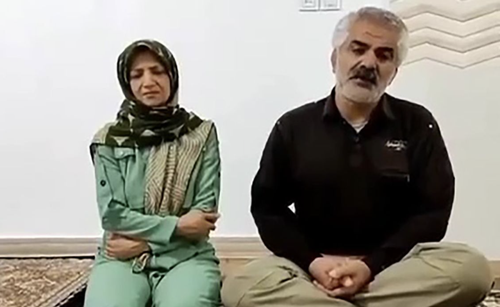 Karami was convicted on December 5, less than a week after his trial began in Tehran over the alleged killing of the paramilitary. Amnesty described the trial as bearing "no resemblance to a meaningful judicial proceeding." His family allege he was tortured in prison and refused access to a lawyer.
Amnesty International published a quote from Karami's father that read: "I go to the court and prison every morning and then walk aimlessly in the streets. This morning I went to prison, but the assistant prosecutor stationed in prison was not there. They told me that I must stop going there if my case related to the protests. They do not give you any response.
"Every night I am terrified that they would give me the news of my child's execution," his father said. "I have lost hope… they have sentenced my child to death and might carry out his execution any minute."
Seyyed Mohammad Hosseini, 20, was remembered for volunteering with children by a German parliamentarian who advocated his case.
"The story of #SeyedMohammadHosseini is so sad. He lost both his parents. He visited their graves every Thursday. He coaches kids for free," Ye-One Rhie wrote on Twitter.
Hosseini was arrested on his way to visit his parents' graves, according to Ye-One Rhie. His brother was also taken and has not been heard from, the parliamentarian said.
According to Amnesty, Hosseini was convicted in the same hearing as Karami and two other men who were also sentenced to death, Hamid Ghare-Hasalou and Hossein Mohammadi.
Amnesty says the convictions relied on forced confessions.
"Before the group trial had started, state media aired the defendants' forced "confessions" and described them as "murderers", in breach of their rights to presumption of innocence and freedom from torture and other cruel, inhumane and degrading treatment," Amnesty wrote.