High-risk under 50s in WA soon able to access Pfizer vaccine
Residents in Western Australia will now to be able to book online to get a COVID jab, as Pfizer's doors open to those in the "high-risk" under-50s category, WA Premier Mark McGowan has announced.
Revealing a number of new measures aimed at increasing vaccination rates, Mr McGowan said he is so far pleased by the amount of doses administered across the state.
To date, 361,000 vaccines have been delivered in WA — above the national average.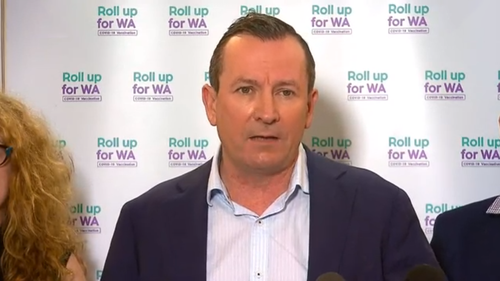 A new COVID-19 vaccination dashboard will go live today and an online booking service to follow on Tuesday, all on the WA Health website.
"As of today we will be rolling out our vaccine dashboard that you will be able to access online — that will give you all the information about how it's going, where you can get vaccinated, the number of people vaccinated and the like," Mr McGowan said.
"So that there is up to date information on a daily basis.
"Shortly, under-50s in the higher-risk category, the 1B Category – people with disabilities, people who work in disability centres, people who work in aged care under 50 – will be able to access the Pfizer vaccine.
"That means that there will be both AstraZeneca and Pfizer available for that cohort of people, we hope that'll increase the take-up of vaccines."