Former government minister Christian Porter gives evidence at robodebt royal commission
Former government minister Christian Porter has given evidence at the robodebt royal commission, accepting some responsibility for the scheme he described as "clunky" and "easily fixable".
The automated robodebt scheme unlawfully used income averaging to wrongfully take $720 million from welfare recipients between 2015 and 2020.
Porter was Social Services Minister from 2015 to 2017 and in January 2017 was filling in for Alan Tudge as Human Services Minister.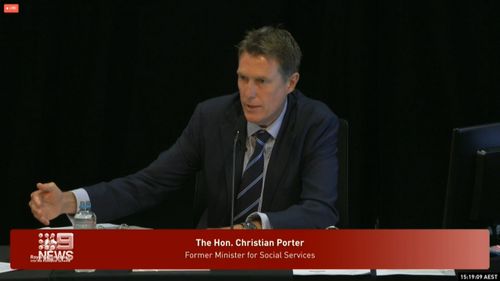 Today, the former treasurer told the Royal Commission a government department gave him incorrect information about how it worked.
"As we went further into the process of interrogating what was actually occurring, it seemed to my Office and I that the processes hadn't been very well designed," Porter said.
"So I was very frustrated by the end of it.
But Porter said he did raise his concerns with then-Prime Minister Malcolm Turnbull.
"That the scheme had a number of inherent procedural flaws and unfairness, that its fundamental and initial design could have quite simply avoided those, that the view that we shared was that they could be repaired and fixed in short order," he told the royal commission.
Porter recalled being told by someone from the Department of Human Services that the scheme was legal, but when his office asked for proof it never came.
Asked whether he took any responsibility for the scheme, the former minister said "I do".
Porter announced he would quit politics in 2022, following a string of highly publicised controversies.
Porter cited the "harshness of modern politics" as a reason for choosing not to recontest his seat of Pearce.
He resigned from the cabinet in September 2021 over a conflict of interest into the identity of the party who paid for his legal bills in a defamation trial against the ABC.