Egypt's second deadly rail accident in a month kills 11
Eleven people have been killed and 98 have been injured in the second deadly rail accident in Egypt in a month.
Four carriages of a train derailed at a station near Toukh on Sunday afternoon, as it travelled north from the capital, Cairo, to the city of Mansoura.
The cause was not immediately clear, but President Abdul Fattah al-Sisi ordered an investigation.
The rail authority said the driver and his assistant, as well as eight station officials, had been detained.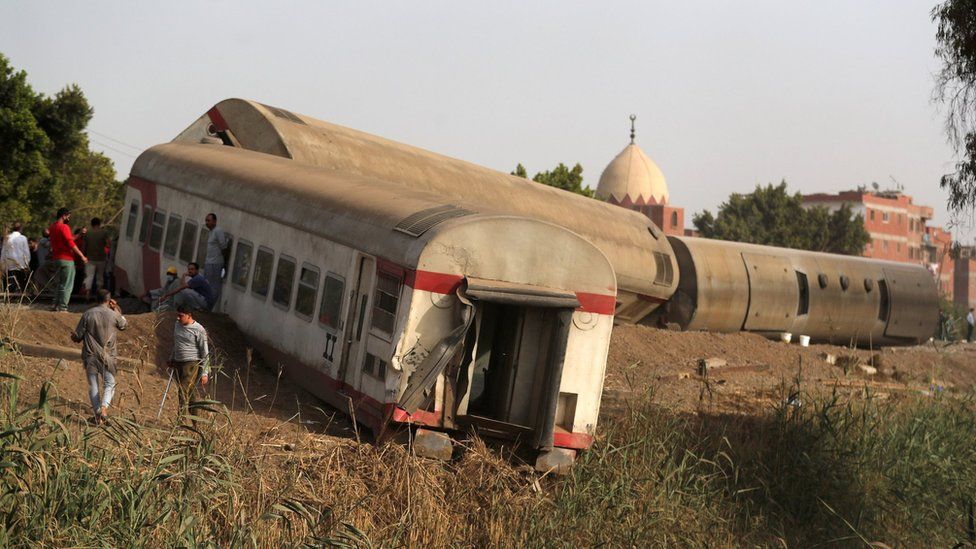 Egypt's railway system has a poor safety record, which many observers blame on a lack of investment by successive governments and poor management.
Last Thursday, 15 people were injured when a train derailed in Sharqiya province, north-east of Cairo.
And on 26 March, at least 19 people died and 185 others were hurt when two trains collided in Sohag province, south of the capital
Prosecutors have alleged that the driver of one of the trains and his assistant "were not in the driver's cabin" before the crash "contrary to their claims".
They have also claimed that the assistant of the other train, which was stationary, and a control tower guard were also under the influence of drugs.
The Automatic Train Control (ATC) system, which can stop or slow down a train, was not activated before the incident.
Transport Minister Kamel al-Wazir, a former general who was appointed after a deadly rail accident in 2019, has said Egypt has "a problem with the human element" and promised to put in place an automated rail network by 2024.