Dutch PM Rutte narrowly survives no-confidence vote
Dutch caretaker Prime Minister Mark Rutte has narrowly survived a vote of no confidence over his conduct during talks to form a governing coalition.
But he remains under pressure after parliament adopted a formal motion of disapproval which noted he had not "spoken the truth" during the talks.
Mr Rutte is accused of lying about moves to sideline a troublesome MP.
"Parliament has given me a serious message and I will try my very best to win back confidence," Mr Rutte said.
The 54-year-old has been in office for more than a decade and has been dubbed "Teflon Mark" for his ability to survive scandals.
However, almost the entire house of parliament backed the disapproval motion against him. His biggest coalition partner, Sigrid Kaag of the centre-left D66 party, said it was not clear to her that he would continue in charge of forming a new government.
Mr Rutte's centre-right VVD party won the most seats in parliamentary elections just two weeks ago, and he was in talks to form a new coalition.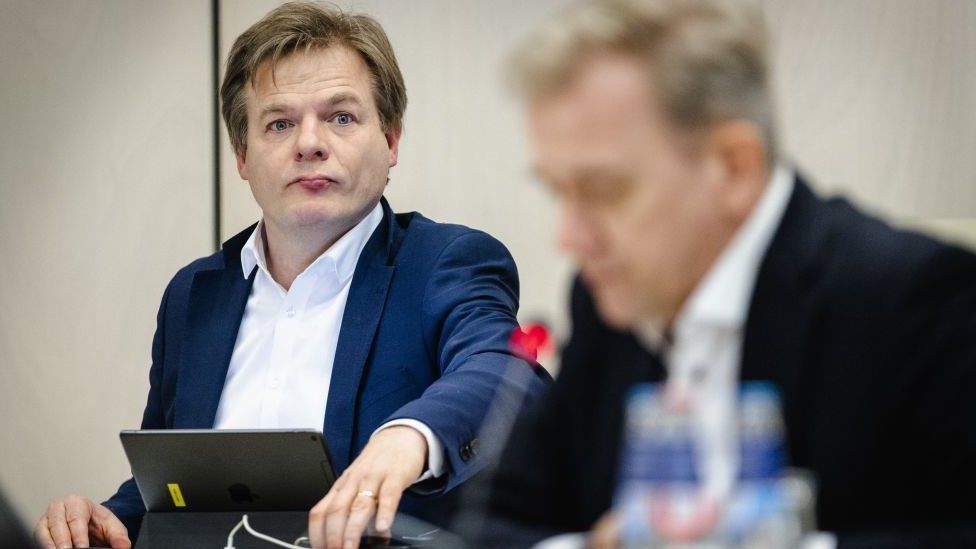 The scandal centres around the MP Pieter Omtzigt, whose Christian Democratic Appeal party formed part of the previous coalition.
Mr Omtzigt, a frequent critic of Mr Rutte, had helped expose a child welfare fraud scandal that led to the government resigning in January, ahead of elections in March.
His name appeared, alongside the words "position elsewhere", in a document from the coalition talks that was photographed being carried by one of the chief negotiators as she rushed out of parliament having tested positive for Covid-19.
Amid speculation that Mr Rutte planned to sideline the popular MP, the prime minister initially denied discussing the issue.
However on Thursday he admitted that he had "remembered that wrong", saying only that he had been reminded of the conversation after receiving a phone call earlier in the day, and insisting: "I did not lie".
The scene inside the normally tame Dutch parliament was at times gladiatorial.
For 12 gruelling hours, MPs questioned Mark Rutte's credibility, integrity and history of memory loss.
When the notes emerged revealing he had in fact discussed Pieter Omtzigt's future, he said he had misremembered and not lied.
The man nicknamed "Teflon Mark" demonstrated Houdini-like abilities to extricate himself from what had seemed an inescapable mess.
And yet images of the caretaker prime minister, sprinting through the corridors of parliament in the early hours of the morning, pursued by journalists with their microphones attached to sticks – to allow for socially-distanced interviews – gave the impression of an animal being hunted.
But his real predators are inside the chamber.
Mr Rutte made it back to the blue seats alongside them on time and survived, but he's bruised and vulnerable, his authority has been compromised.
This turbulent experience will inevitably have an impact on the shape and direction of the new government, and there are no guarantees Mark Rutte will be leading it.
He must still find other parties prepared to join forces with him to form the next coalition.
His closest allies and intended coalition partners, Sigrid Kaag and Wopke Hoekstra, proposed the motion critical of his conduct. Whether their aim was to throw him a lifeline or lay a gangplank, only the choppy weeks ahead will tell.
Sigrid Kaag, whose D66 party was runner-up in last month's elections, said she was unsure about joining a new government with Mr Rutte. "My confidence in him has been severely damaged. I blame him for that."
She and Wopke Hoekstra of the Christian Democrats submitted the disapproval motion against Mr Rutte, even though their parties had backed him in the confidence vote.