Covid Europe's vaccine rollout 'unacceptably slow' – WHO
The World Health Organization (WHO) has criticised the rollout of coronavirus vaccines in Europe as being "unacceptably slow".
It also says the situation in the region is more worrying than it has been for several months.
Vaccination campaigns in much of Europe have been hit by delays and the number of infections is rising.
France is the latest country to announce new lockdown measures, lasting four weeks.
What did the WHO say?
"Vaccines present our best way out of this pandemic… However, the rollout of these vaccines is unacceptably slow" and is prolonging the pandemic in the wider Europe region, WHO director for Europe Hans Kluge said in a statement.
"We must speed up the process by ramping up manufacturing, reducing barriers to administering vaccines, and using every single vial we have in stock, now," he added.
In the meantime, as long as vaccine coverage remained low, he said EU countries would have to impose lockdowns and other measures to compensate for the delays.
Mr Kluge also warned that the vaccine rollout, despite its slow speed, risked "providing a false sense of security to authorities and the public alike".
What is Europe's Covid situation?
Last week saw increasing transmission of Covid-19 in the majority of countries in the WHO European region – which includes more than 50 countries and extends from Greenland to the far east of Russia. There were 1.6 million new cases and close to 24,000 deaths, the WHO said.
Cases were rising in all but one age group, the organisation said.
Only 10% of the nearly 900 million people in the region have had a single dose of coronavirus vaccine.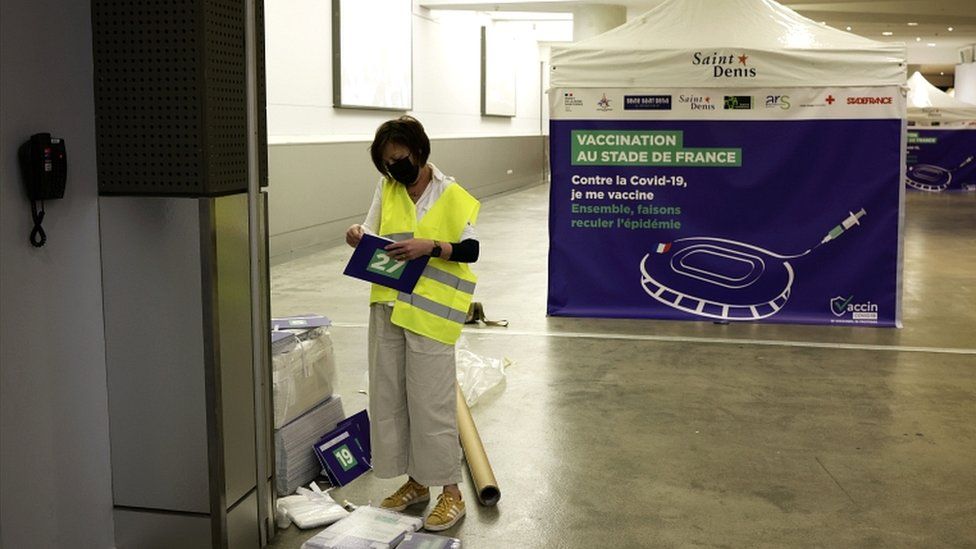 It remains the second most affected by the virus of all the world's regions, with the total number of deaths fast approaching one million and the total number of cases about to surpass 45 million, it added.
The WHO also warned of the risks of greater spread associated with increased mobility and number of gatherings over the forthcoming religious holidays of Passover, Easter and Ramadan.
Some 27 countries of the more than 50 included in the WHO Europe region have implemented partial or full coronavirus lockdowns.
Why has the European rollout been so slow?
Only 16% of the EU's population has so far received a dose of vaccine.
The EU was slow to negotiate a contract with vaccine manufacturer AstraZeneca which caused supply problems. It also sparked a political row with the UK, where AstraZeneca has plants and where 52% of the population has had at least one dose.
The EU's deals with Pfizer-BioNTech and Moderna also ran into early problems with production and distribution.
EU regulators were then slow to authorise vaccines for use. Some EU countries subsequently paused their rollouts of the AstraZeneca jab over reports of blood clots among a small number of people who had received a dose. Others restricted its use among older people over concerns that the company had not provided enough testing data.
All this has led to low public confidence in the AstraZeneca vaccine. Polling company YouGov says only a third of Germans and less than a quarter of French respondents now consider it safe.
The WHO and the European Medicines Agency, however, say the benefits of the vaccine outweigh any risks.
Vaccine rollout in some non-EU countries in the WHO's Europe area has also been slow. In Russia some people are hesitant to be vaccinated with Russia's own Sputnik V vaccine, for which safety data has been made public and which has been shown to be effective.
Meanwhile Ukraine received its first shipment of vaccines in late February – 500,000 doses of the AstraZeneca vaccine manufactured in India. But there is widespread scepticism towards vaccination – last month the Kyiv International Institute of Sociology found 60% of Ukrainians did not want a jab.
However, a bright spot in Europe is Serbia in the Balkans, which has vaccinated more than two million of its seven-million population thanks to early deals with vaccine providers including China's Sinopharm. It has also vaccinated migrants and citizens of neighbouring countries.
What else is happening around Europe?
After President Emmanuel Macron announced new restrictions in France on Wednesday evening, Prime Minister Jean Castex said on Thursday morning at the National Assembly: "The third wave is here." He announced more detailed measures including a ban on alcohol in public spaces. France is set to begin a limited lockdown for four weeks from Saturday night, with travel restrictions extended from 19 areas to the entire country
Some 35,000 German doctors are to begin offering vaccinations at their practices after Easter, and 1.4m doses have been ordered for this part of the campaign
Eurovision is to take place in Rotterdam's Ahoy arena in May. The Dutch government wants to use the event as a test with 3,500 spectators allowed for all the rehearsals and the three big shows. There will be extensive safety measures for the 39 countries taking part
As infections surge in Belgium, a Brussels court has ruled that all the country's Covid measures have to be lifted within 30 days because the legal basis is not sound enough. The court backed a lawsuit from the League for Human Rights. Interior Minister Annelies Verlinden has appealed against the ruling
Spain is seeing a new rise in cases with an average incidence of up to 152 cases per 100,000 over the last two weeks. Madrid and Navarre in the north are among the areas seeing a spike
Cases are also rising in Germany, with 24,300 in the past 24 hours. Almost 90% of infections involve the UK (Kent) variant
The Austrian capital, Vienna and two other provinces in the east have imposed an Easter lockdown to help ease the pressure on hospitals. Austrians have been told to stay at home, except for necessary activities such as food shopping, work, exercise and helping their families
A new German survey suggests only 25% of people have faith in the government's vaccination strategy. The Oxford-AstraZeneca vaccine has been limited to over-60s in Germany and 40% of those surveyed said they did not want it