Coronavirus: Hungary first in EU to approve Russian vaccine
Hungary has become the first country in the European Union to give preliminary approval to the Russian coronavirus vaccine, Sputnik V.
On Thursday, Prime Minister Viktor Orban's chief of staff confirmed both the Russian jab and the Oxford-AstraZeneca vaccine had been given the green light by the health authorities.
Foreign Minister Peter Szijjarto is travelling to Moscow for further talks, where he is expected to discuss a shipment and distribution deal.
Early results from trials of the Sputnik vaccine have shown promising results.
Hungarian health officials are also in Beijing for talks with the Chinese authorities over the approval and immediate delivery of one million doses of the Sinopharm vaccine, which is already being used in neighbouring Serbia.
When will the different vaccines be ready?
What progress are we making on treatments?
Cases, deaths and vaccinations by country
Sinopharm, a Chinese state-owned company, announced last month that phase three trials of its jab showed that it was 79% effective – lower than that of Pfizer and Moderna.
But Hungary's prime minister has said the only way the country can satisfy the demand for vaccination, given the "frustratingly" slow delivery of the Pfizer-BioNTech vaccine, is by buying from Russia and China.
At least 140,000 Hungarians have already been vaccinated. But government efforts to popularise the Russian and Chinese vaccines have already run into opposition.
The scepticism and suspicion among Hungarians is, in the public imagination at least, related to the Communist domination of the country from 1948 to 1989.
The move has also drawn criticism from the European Union, which is wary of yet another example of Mr Orban's government going its own way and undermining EU solidarity.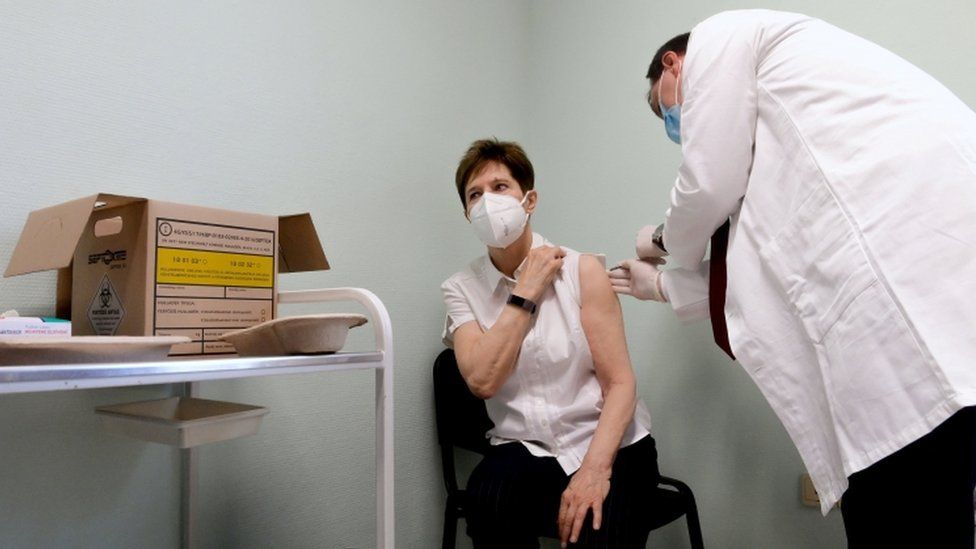 In the capital Budapest, outside the Allee shopping mall, views are mixed about vaccination in general. There are particularly strong feelings here about the prospect of non-EU developed vaccines being rolled out.
Orsolya Egri, a hospice worker, said she believed there was a "huge difference" between a vaccine gaining Hungarian approval and EU-wide approval.
"If [it is only approved] by the Hungarian authorities, I would not dare," she said. "I don't trust the Hungarian government [or the] health system either."
Ms Egri has already received the Pfizer vaccine, because of the nature of her work, but she is especially concerned about her elderly parents who might have no choice about which vaccine they receive.
"I've had the Pfizer [vaccine] already, and I would recommend it to anyone," Alexandra Tarhazy, a dentist's assistant, said. "I trust it more because Hungarians were involved in developing it."
Katalin Kariko, a biochemist who left Hungary for the US in 1985, played a key role in developing the Pfizer-BioNTech vaccine.