Brazil Amazon Celebrities urge Biden to refuse deal with Bolsonaro
Dozens of US and Brazilian celebrities have urged President Joe Biden to not sign any environmental deal with Brazil as deforestation in the Amazon rises.
In a letter, they said an accord risked legitimising a government that was encouraging environmental destruction.
Actor Leonardo DiCaprio and singers Katy Perry, Gilberto Gil and Caetano Veloso are among those who signed it.
President Jair Bolsonaro has weakened protections and called for economic development in the rainforest.
Deforestation in the Brazilian Amazon surged to a 12-year high last year. The far-right leader, who took office in January 2019, has encouraged agriculture and mining in the area, and rolled back environmental legislation.
The US and Brazil have been holding talks since February on the possibility of collaborating to stop the increasing destruction of the Amazon, the world's largest rainforest. A deal could see Brazil receiving financial aid in return for protecting the region.
In the open letter, the 35 celebrities told President Biden to "not commit to any agreements with Brazil at this time" and that any deal should listen to indigenous and environmental groups as well as state and local governments first.
"We join a growing coalition… in urging your administration to reject any deal with Brazil until deforestation is reduced, human rights are respected, and meaningful participation by civil society is met," the letter said. "A deal with Bolsonaro is not the solution."
President Bolsonaro's office has not commented. The letter was also signed by American actors Jane Fonda, Sigourney Weaver and Alec Baldwin, Brazilian actress Sonia Braga and filmmaker Fernando Meirelles as well as British singer Roger Waters and actor Orlando Bloom.
The document follows another letter earlier this month in which more than 200 Brazilian groups urged President Biden not to sign any deal with the Bolsonaro government, saying it did not have legitimacy to represent Brazil.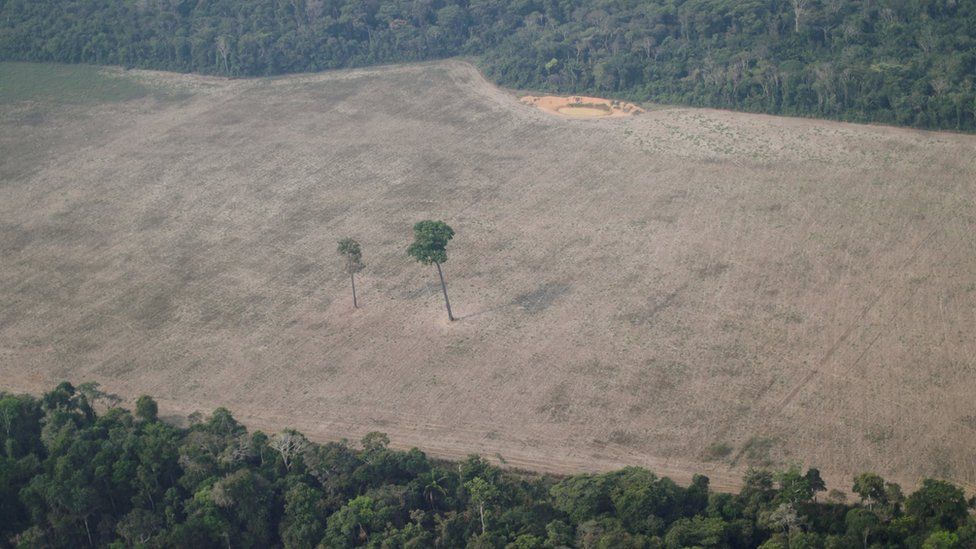 The environmental policies of President Bolsonaro, who is supported by powerful agribusiness leaders, have been widely condemned at home and abroad.
Environmental enforcement agencies remain underfunded and understaffed, and indigenous groups and activists frequently denounce the impunity for illegal logging and mining in protected areas.
The president often rejects the criticism, saying Brazil remains an example for conservation and that more farming and mining in protected areas are the only way to lift the region out of poverty.
But in what was seen as an attempt to show a change in tone, Environment Minister Ricardo Salles said last week the government would need $1bn (£720m) in foreign aid to support efforts to reduce deforestation by 30% to 40% in a year. Critics say the authorities should show results first before any financial commitment is made.