Armed robbery led to siege, police say as man charged
A man has been charged with 11 offences after a more than 24-hour siege in the Brisbane suburb of Sunnybank.
The stand-off ended today with the man alleged to be at the centre of the siege walking out of the home along with a woman and a toddler, who were safe and well.
Police spent more than a day negotiating at the home on Dyson Avenue, in an attempt to bring about a peaceful resolution.
"Very happy it has been peacefully resolved, which is always our aim," Inspector Michelle Piket told reporters.
"The community has been brilliant in providing the assistance they did, going about their lives with us interfering."
People are now free to move through the streets after the exclusion zone was lifted.
Police will allege the siege followed an armed robbery some days before.
They claim two armed men visited a hotel on Toohey Road and demanded money from staff at about 7.15pm on February 14.
After investigating, police visited the Dyson Avenue property, where they were allegedly threatened with a gun, sparking the siege.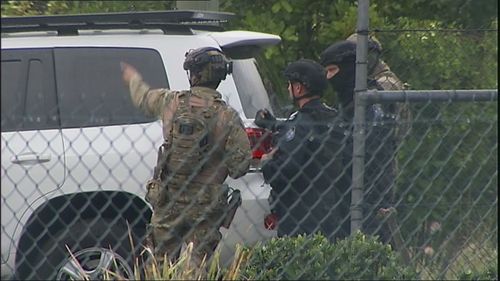 Residents in nearby streets were forced to shelter inside their homes for much of yesterday, as police issued an emergency declaration just after 11am, but it has now been rescinded.
Trains on one of Brisbane's busiest routes, the Beenleigh line, were also delayed.
The man has been charged with three counts of common assault and deprivation of liberty and one count each of endangering children by exposure, enter premises with intent, robbery armed, serious assault police officer whilst armed and unlawful possession of a category H weapon.
He is expected to face court tomorrow.
Police are still searching for the second man involved in the alleged hotel robbery.