WA police arrest 12, seize $1 billion worth of cocaine in Australia's largest-ever bust
Police in Western Australia have stopped 2.4 tonnes of cocaine from entering Australia and arrested 12 people in the largest bust in Australian history.
The enormous volume represents half of Australia's annual consumption of the drug, and has an estimated street value of $1 billion.
"We discovered there was approximately 2.4 tonnes of cocaine destined for Western Australia," Detective Senior Sergeant David Palmer said.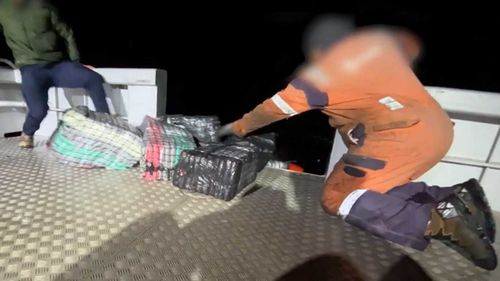 "That discovery was seized by partner agencies."
After seizing the drugs offshore, police replaced it with plaster-of-paris
"Once dropping the substituted substance in the ocean, we knew there was going to be people that were going to attend that location to collect that," Detective Inspector Jeff Beros said.
"We were willing to wait as long as it took for those people to arrive."
They then staked out Hillarys Boat Harbour in Perth's north, and waited for the suspects to arrive with the sham cocaine.
Officers have now arrested twelve people in connection with the alleged attempted drug importation.
WA Police linked the cocaine to Mexican cartels.
Police also made a cash seizure of $2 million in Coolgardie which was linked to the operation.