Unicorn Auto accused of selling 'lemon cars'
Buying a second-hand car can be risky business, so when one dealership promoted itself as being family friendly customers thought they'd found a reputable business.
But for the mums A Current Affair has spoken to it hasn't been the case.
Michelle Osmand, Chantel Farleigh and Amy South each wanted a reliable family car but instead they've been left with a sour taste in their mouths and a hole in their purses.
Unicorn Auto is a female-run used car dealership and finance broker which promises to help single parents, pensioners, casual workers and even those with a bad credit rating.
On its website it says its vision is to change the industry image that has been tarnished by a few unscrupulous operators and aims to create a more female-friendly environment with an open and consultative approach rather than the scare tactics and revenue raising.
What it fails to mention is it has a long list of unhappy customers, who have created their own Facebook group which now has over 150 members.
Owners Shae Tucker and Mandy Colgan boast more than 30 staff and call themselves car dealers.
Most of their business is conducted online with customers around Australia.
A quick Google search and you'll find Ms Tucker is also an aspiring actor and reality TV star.
She also moonlights as a stand-up comedian.
Ms South isn't laughing about her experience with Unicorn Auto.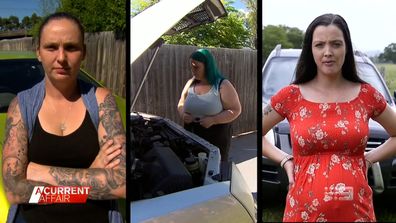 The mother-of-two, who has another baby on the way, called the company to enquire about a car but before she knew it she claims staff had locked her into a deal.
"I felt so pressured, they were very pushy. They told me, 'you have no choice in the matter now really, you have to go ahead with it,'" Ms South told A Current Affair.
After collecting the $8000 Kia Sportage, it didn't take long for problems to arise, with a mechanic confirming it wasn't even roadworthy.
"The struts were completely ceased, the suspension was ceased, the door handles were falling off once being touched, there was a major oil leak," Ms South said.
Ms South said she's now had multiple close calls.
"The vehicle stopped, completely shut off – I couldn't accelerate, I couldn't brake, I couldn't do anything, couldn't put it into park," she said.
"It was just the first place that popped up with a single parent advertised," single mum Ms Farleigh said.
She went to Unicorn Auto when buying her first car and paid $8000 for a Kia Sorento but with interest on the loan repayments, it's going to cost more than double that for a car she claims she can't even drive.
"The head gasket needs replacing. If you put oil in it, it will just leak on the ground straight away, no coolant flows through the tubes so no air is pumping," she said.
It took less than a week for the car to start having issues, with the harmonic balancer, designed to stop an engine from excessively shaking, falling out while she was driving.
Ms Farleigh took the car back to Unicorn Auto's workshop in Brisbane for repairs, but she said the car continued to have problems.
"After being in their workshop the brakes and accelerator stopped working and I had to slam it in park and pull out my key because we were about to go down a hill on a main road," she said.
"My exhaust had lots of holes in it and it was actually leaking the carbon monoxide into my car with me and my children in it," Ms Osmand said.
The mother also claims she's had a terrible experience with Unicorn Auto after buying a 2007 Holden Commodore.
Within a month the engine light came on and the timing chain inside the engine needed replacing.
"It's cost me $2500 just for the timing chain. it cost me over $500 for the exhaust. My mechanic said it wasn't serviced properly, I also needed new brakes and roaders," she said.
This isn't the first time A Current Affair has investigated Ms Tucker and her partner Ms Colgan.
A Current Affair has previously received complaints from angry customers of Shandy Auto.
It turns out, the couple also ran that business and they now use the same ABN for Unicorn Auto.
When A Current Affair contacted Ms Tucker for a response about the recent complaints, she didn't have much to say other than "no comment" before hanging up.
"Look how many women there are that have been stuck with these lemon cars, if they had a conscience they'd either fix the problem or stop selling lemon cars," Ms South said.
"I don't want to see another single mum go through this and have to pay for a car that in a week or a month that doesn't work," Ms Osmand said.