The system is definitely broken' Truck driver's life destroyed after he stopped to help at deadly crash
It was a Good Samaritan act that turned Troy Logan's life into a living nightmare.
The interstate truckie was on his way to visit his brother in Sydney when he witnessed a four-wheel drive plough at high speed into a family sleeping in their car in a rest bay.
Jumping from his car, Mr Logan called Triple Zero. Confronted by a horror scene, he immediately sprang into action.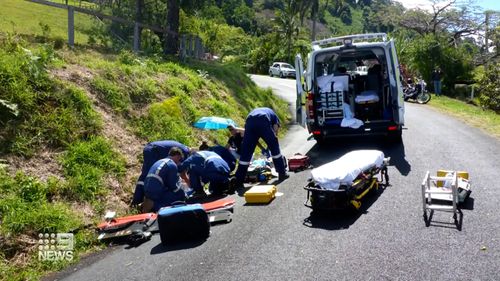 Switching off the smoking engine of the four-wheel drive, Mr Logan helped occupants out, calming a panicked toddler whose unconscious mother lay over him in the back of the family car and reassuring another boy trapped in the rear shelf.
Then, in long grass nearby, Mr Logan discovered a man in his 20s groaning with severe head injuries after being thrown from the car in the crash.
Flagging down emergency services and directing bystanders, Mr Logan cradled the young man in his arms, used a towel to try to stem the bleeding from his head, and consoled him as his condition worsened.