Parts of Sydney told to evacuate as heavy rainfall lashes NSW
People in parts of Sydney have been told to evacuate, with NSW emergency services warning of rising floodwaters as heavy rainfall continues across the state.
Evacuation orders have been issued for several areas around the Liverpool Georges River area as well as parts of Moorebank and Camden.
The State Emergency Service (SES) directed residents and businesses within parts of Warwick Farm to evacuate the Warwick Farm Racecourse area.
As the situation is constantly changing, visit the SES, Bureau of Meteorology and LiveTraffic websites for the latest orders and information.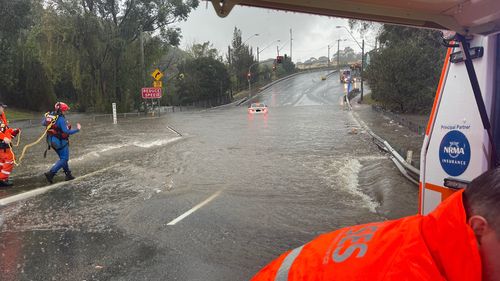 Meanwhile the SES issued an evacuation order in place for residents and businesses within Georges Hall in Beatty Parade.
An evacuation order was also issued for parts of Chipping Norton in several streets including Newbridge Road between Riverside Road and east to Georges River, Davy Robinson Drive, Rickard Road and Arthur Street.
"Once floodwater reaches 3.8 metres at the Liverpool Gauge, the area will be isolated," the SES said.
"If you remain in the area you may be trapped without power, water and other essential services and it may be too dangerous to rescue you."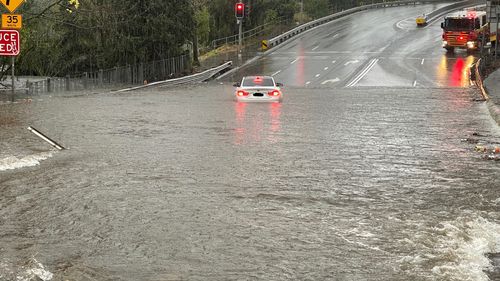 Residents have been advised to stay with family, friends or at accommodation outside of flood areas.
The SES also directed people in parts of Moorebank to evacuate the area now.
The order covers those on the western side of Epsom Road, between Westbury Street and Childs Road.
Residents of other suburbs nearby remain on standby.
Already people in parts of Camden have been directed to evacuate by 10am on Sunday.
This includes low-lying properties on Cut Hill Road, Cut Hill and low lying properties on Cobbitty Road, Cobbitty.
The SES later updated the order to include Sheathers Lane, Kirkham Lane, Menangle Road near Racecourse Road (which may be isolated), Poplar Caravan Park and properties next to the Macquarie Grove Bridge on Argyle Street.
The SES plans to issue emergency alert SMS messages tonight to communities along Hawkesbury-Nepean catchments, as evacuations become necessary.
The SES said low-lying Hawkesbury-Nepean communities will receive warnings they could be affected by flooding on Saturday or the following days depending on the distribution of the rainfall.
The areas that are expected to receive warnings tonight include Menangle, Liverpool, Milperra, Camden, North Richmond, Wallacia, Penrith, Sackville, Upper Colo and Windsor.
"If you receive a text message from +61 444 444 444, it's an official alert that requires attention and to take action early," the SES said, asking people not to think it's a scam and ignore the message.
"If you have been affected by flooding in the past, you may be affected again.
"Communities can prepare now by understanding their risk and monitoring weather conditions.
"Protect yourself, property and livestock by acting early and avoiding flooded roads. If you need to arrange accommodation with family and friends, prepare that now.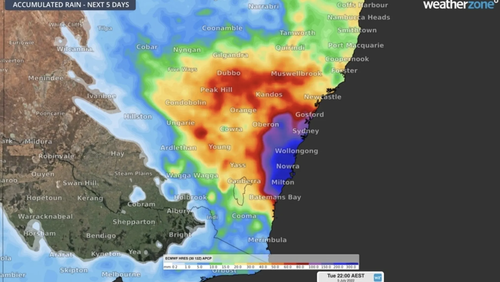 "If you had holidays booked, stay away from flood-prone areas and plan your trips carefully."
The heavy downpours continue to keep NSW SES crews busy, with hundreds of calls for assistance today.
This included a rescue at Harris Creek in the Sydney suburb of Holsworthy, where a woman in her 20s was clinging to a tree in floodwaters for more than an hour near the train station.
SES crews rescued the woman from the floodwaters and escorted her back to land by boat.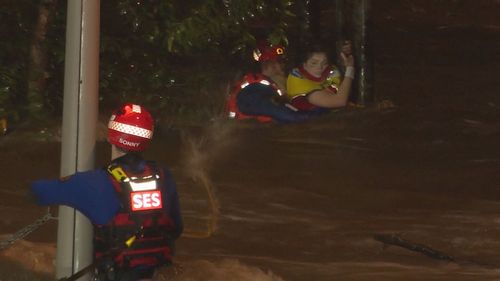 The downpour currently stretches from Port Stephens in the north to Batemans Bay in the south and everywhere in between.
Minister for Emergency Services and Resilience Steph Cooke said residents in affected areas should remain on alert as the freak conditions are expected to worsen throughout the evening.
"My message to everyone today is if you have not yet been impacted by rainfall, don't think you have been spared," Cooke said.
"We may not have seen the worst of it yet.
"There is a very real threat of an east coast low developing into Sunday.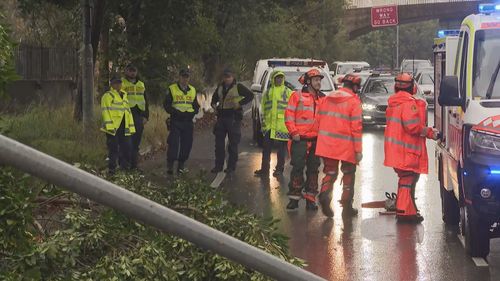 "This could result in torrential rain, in flash flooding, damaging winds and coastal erosion, making our coastline and our cities very dangerous places to be in."
Cooke said given the "already record rainfall" the state has experienced this year, the ground still remains saturated.
"Our entire landscape, in fact, almost right across NSW, is saturated at this time," Cooke said said.
"And of course our dams and river channels are also full."
The weather system may pick up again on Monday bringing further wet weather.
NSW warnings will be published here, while Queenslanders can keep across updates here.
Flash flooding and riverine flooding are "very real" risks in the coming days.
Cooke said "this could occur anywhere from Newcastle down to Jervis Bay", with the river system "of most concern" at the Hawkesbury-Nepean.
"It may reach major flood level overnight," she said.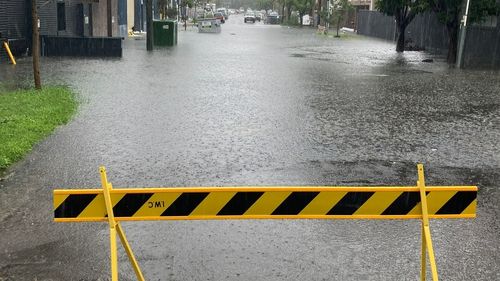 Authorities have also raised concern over Warragamba Dam, which could see significant spillage over the coming days.
As of 4pm this afternoon, The Upper Nepean, Avon and Cordeaux Dams have reported spillage.
"We are all nervously waiting to see what eventuates," Cooke said.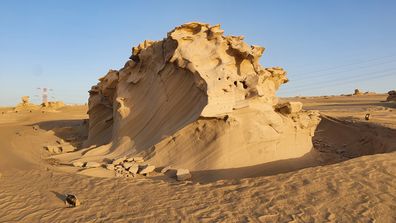 The eerie 'fossil dunes' shaped by wild winds in Abu Dhabi
Helicopters, unimogs and other assets have been placed to ensure they can respond quickly in the event of an emergency.
Cooke urged residents to keep an eye on watches, warnings and orders issued by the Bureau of Meteorology, the SES and other emergency services in the days ahead.
"Please be ready to evacuate at short notice," she said.
"Please ensure that you prepare your properties as best you can, please prepare your families and your pets if necessary and if in any doubt please evacuate early.
"Don't necessarily wait for us to put out an order, asking or suggesting that you leave."