Moderate flooding after river peaks in south-west Sydney as rain, landslides and dangerous surf hit East Coast
Areas in Sydney's south-west are bracing for "dangerous floodwaters", NSW SES says.
Moderate flooding is occurring this evening after the Nepean River at Menangle, near Campbelltown, peaked around 6pm at 9.56 metres.
As of 8.15pm levels were sitting at 9.52 metres and falling, with moderate flooding.
Based on the Bureau of Meteorology's forecasts, the following areas will be impacted by "dangerous floodwater", the NSW SES said in a bulletin:
Menangle Road near Racecourse Road will be isolated
Douglas Park Causeway at Douglas park will be closed
Macquarie Grove Bridge will be closed
Cobbitty Bridge may be closed
Low-lying areas near the river and its tributaries may be flooded
Residents of low lying areas near the river or major storm water drains in the Camden and Wollondilly Council areas are being asked to keep an active watch on the flood waters.
Farmers are being warned to prepare to relocate stock in case roads close.
While river levels are falling at Menagle, the Nepean River at Camden Weir and the Nepean River at Wallacia Weir are still rising, and the Nepean River at Penrith is steady.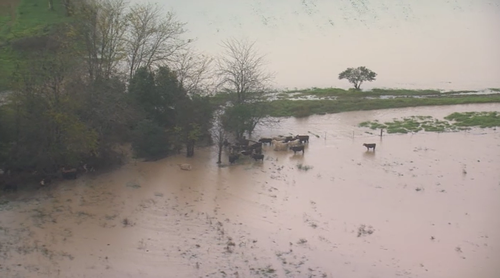 Earlier today, the flood warning for low-lying communities in the region had been upgraded after heavy rainfall across the city.
The river had been expected to peak at 9.2 metres around 4pm, which was almost three metres higher than an earlier forecast.
Motorists have been urged to avoid the area if possible.
The dangerous conditions are a result of a torrential downpour that has continued to pummel Australia's east coast in recent days.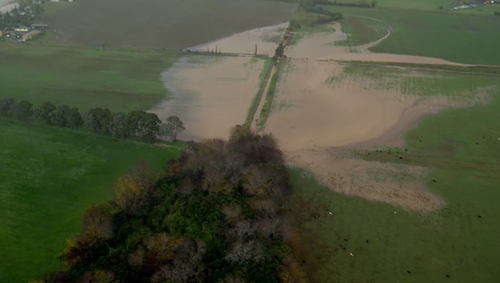 To the west of Sydney, the downpour caused a landslide on the Great Western Highway between Victoria Falls Road and Harley Avenue this morning.
Traffic in both directions was banked up.
The intense weather means hazardous surf warnings are in place along the NSW coastline with a coastal trough and low creating dangerous conditions which are generating gusty winds, rain and large surf in eastern NSW, and heavy showers in eastern Victoria.
Weatherzone meteorologists said troughs over parts of WA and SA were triggering showers and the odd storm.
It was mostly dry and settled elsewhere with a high pressure system and a dry airmass keeping skies reasonably clear across the rest of the country.