Major train delays as union continues with strike action
Sydney commuters will face major train delays on Friday after negotiations between the transport union and the government deteriorated.
Rail, Tram and Bus Union secretary Alex Claassens said the strike will go ahead with 70 per cent of train services slashed and a weekend timetable running.
The union is refusing to operate any foreign-made trains on Friday, calling for the government to cement safety repairs to the New Intercity Fleet (NIF).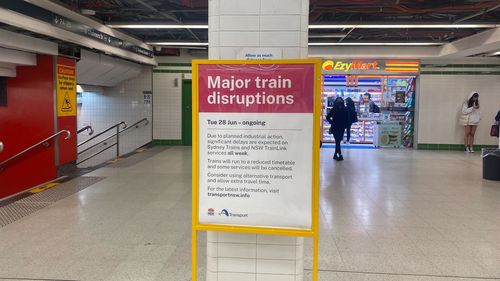 NSW Transport Minister David Elliott pledged $264 million on Wednesday to fix the NIF, which is at the heart of the controversy along with working conditions and pay concerns.
The union has been concerned about crucial blind spots in surveillance on the new fleet due to it relying solely on monitoring from CCTV cameras mounted on the sides of the trains, which have no audio and restricted line of sight because of the design of the carriages.
"It's going to be a very messy day tomorrow," Claassens said, on Thursday
"We are going to continue fighting to get these trains made safe and we will do whatever it takes."
Claassens said the strike is going ahead because the government has given no written commitment or signed documents to fix the new fleet.
He said the government has only provided draft proposals.
"Disappointingly the government have decided 'oh no it's all contingent on everything else being done," Claassens said.
"It shouldn't come at the expense of our wages and conditions.
"I'm not sure where we go from here."
Commuters have been warned to consider alternative travel on Friday or leave more time when catching trains due to the strike.
Thousands of teachers strike for pay and working conditions
Meanwhile for the first time in 25 years, thousands of public and Catholic school teachers have walked off the job in New South Wales.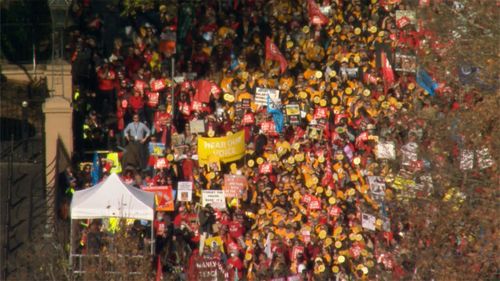 It's estimated between 20,000 and 25,000 teachers marched down Macquarie Street in Sydney towards state parliament today calling for the government to address the sector's staff shortages and increase pay.
The government had offered a 3 per cent pay rise in this year's state budget but teachers have rejected the offer and instead are calling for a rise of between five and 7.5 per cent.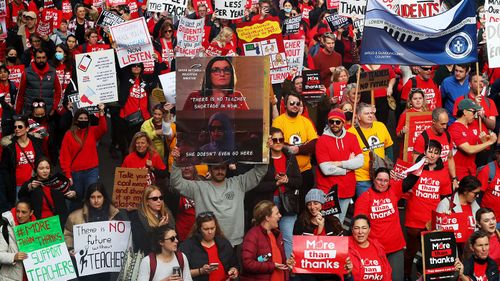 "The government needs to act in the interest of students," NSW Teachers Federation president Angelo Gavrielatos said.
"It's failing students. It's failing the profession.
"I can assure you that the last thing that teachers want to be doing is to be taking to the streets.
"I can assure you that teachers and principals would prefer to be doing is taking care of the students much."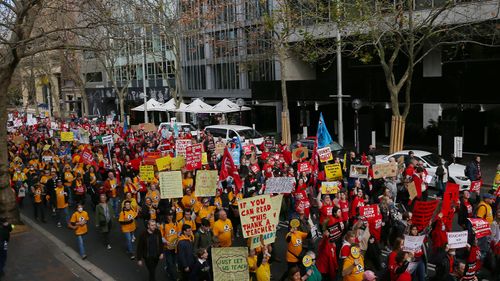 Teachers who have taken to the streets to protest for government action say they are overworked and underpaid.
"The conditions that teachers are working under now are not going to benefit our students," a teacher told 9News.
"(Addressing) teacher shortages, salary increases are necessary, bring in quality teachers for every child in every school."
Up to one million students are expected to be affected by the strike action.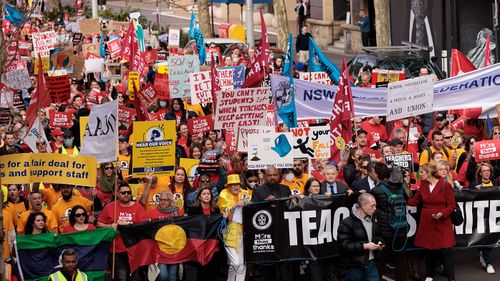 Education Minister Sarah Mitchell said the government has done enough to address pay concerns.
"We said in the budget we would look to put a more generous public sector pay increase on the table. That's exactly what we've done," she said.
"It's more than any other teacher can expect anywhere else in the country.
"Yet they're still progressing with this industrial action.
"So I'm frustrated and I'm disappointed on behalf of parents and kids."