Macron says AUKUS 'will not deliver' as submarines cast shadow on French relations with Australia
Australia's scrapped $90 billion submarine deal with France continues to cast a shadow on relations even as the countries' leaders talk about potential defence co-operation again.
A day after reopening old wounds with new criticism of former prime minister Scott Morrison's decision to dump the French agreement for nuclear-powered vessels, President Emmanuel Macron again sunk his boot into the AUKUS agreement on Friday.
The defence alliance with the United States and United Kingdom "will not deliver", Macron told Bloomberg, a day after accusing Morrison of provoking "confrontation" with China by opting for nuclear-powered submarines.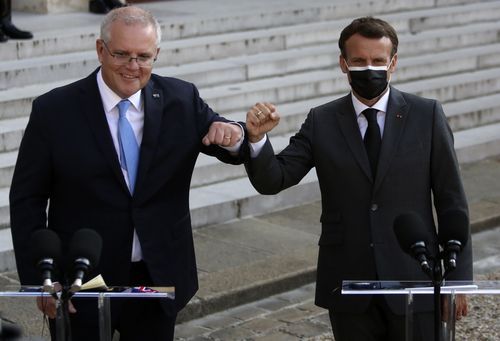 "What we decided in 2015 together is how to build submarines for Australian people, in Australia, for Australian industry, to build Australian sovereignty, and to have non-nuclear submarines that you can restore, repair and use," he said on Friday, on the sidelines of the Asia-Pacific Economic Cooperation (APEC) summit in Thailand.
"What the AUKUS deal is about is how to make nuclear submarines elsewhere, with other people."
Despite defining AUKUS as "a big signal of distress" for France and warning it would saddle Australia with unreliable military supply chains, Macron said his talk with Prime Minister Anthony Albanese in Bali was a "very good discussion".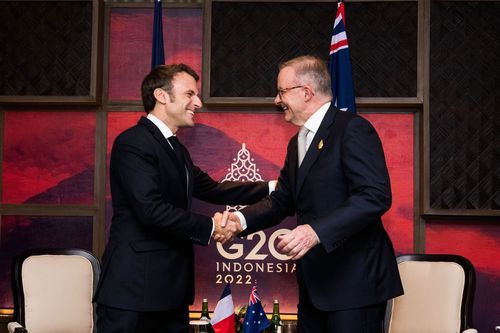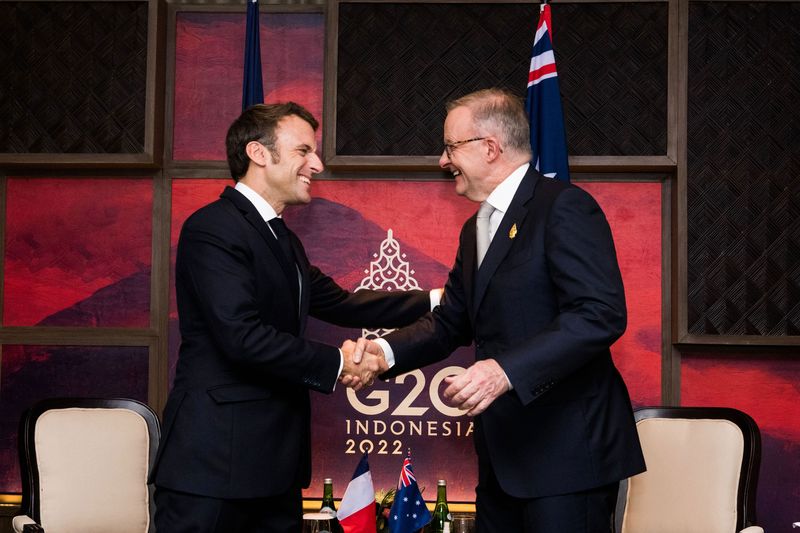 Speaking on Friday from the same APEC summit as Macron, Albanese denied any suggestion of a disagreement with the French leader.
He said Macron put forward "very forthright" views on the subject but Australia's position on AUKUS hadn't changed.
"We are proceeding with the AUKUS arrangements, there's nothing ambiguous about it. That is our position," he said.
Macron publicly offered to help supply Australia with submarines in the long gap before any nuclear submarines could be delivered but he himself noted Australia's position hadn't changed.
Albanese did reveal he'd spoken to Macron about "how we can co-operate in defence".
"We have a good co-operative relationship with France and we'll continue to engage on ways in which France can assist Australia in the road map that we agreed on when we met in Paris, which is about defence and security, it's about energy and the environment including dealing with climate change and it's about cultural advances as well," he said.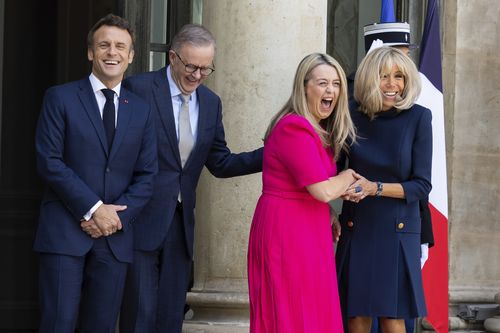 The AUKUS deal, and the last-minute revelation of it to France, sparked a major diplomatic meltdown, leaving negotiations over a multibillion-dollar free trade agreement with the European Union on hold.
Macron famously labelled Morrison a liar for his part in the process, to which the former prime minister said he always acted in the best interests of Australia.
Albanese earlier this year announced an $830 million settlement deal with French sub builder Naval Group and declared a "new chapter" in relations with France,  during a meeting with Macron in Paris.
The pair met on the sidelines of the G20 leaders' summit in Bali on Thursday, where they shook hands, talked and posed for a selfie.