Exclusion zone in place for week after Sydney's biggest fire in 50 years
An exclusion zone will be set up for at least the next seven days as engineers and fire crews monitor the walls of the buildings engulfed in Sydney's biggest blaze in more than 50 years.
Specialist teams are monitoring the buildings with a laser pointer to assess if they will fall after a "10th alarm" call was made for the first time in about half a century.
The exclusion zone includes two apartment blocks with about 100 residents, who are being offered emergency housing by the Red Cross.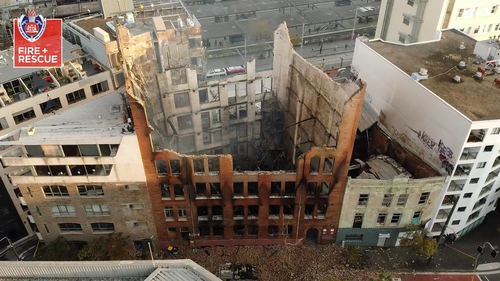 Southbound lanes on Elizabeth Street will reopen tonight, with barricades in place, to allow for traffic to begin flowing through.
Two 13-year-olds have come forward to police after the massive inferno broke out and engulfed two buildings on Randle Street in Surry Hills.
The young people went to police stations after officers began investigating whether arson could be to blame for the blaze.