Dramatic chase through Melbourne's bayside suburbs ends with man arrested
A man has been taken into custody after leading police on a dramatic chase through Melbourne's bayside suburbs, ramming several cars before storming into a unit complex.
The alleged crime spree started in St Kilda, were police say they spotted the 44-year-old man driving erratically in a stolen Audi sedan about 11.40am.
Police attempted to intercept the Audi, which allegedly rammed two police vehicles then fled the scene.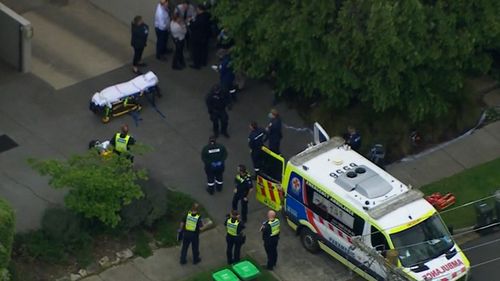 Police pursued that car, which was eventually found dumped in Elwood.
It's alleged the man then carjacked at knife point a Volvo driver, before driving to Brighton East and dumping the vehicle.
Police said the man entered a property on Davies Street and threatened a resident with an edged weapon, before being chased from the property by the resident.
The man then entered a property on Cluden Street around 1.30pm.
After negotiating, police stormed the block of units and the man was placed onto a stretcher and taken to hospital.
The 44-year-old Melton man is assisting police with their enquiries.