Australian pair nabbed in Serbian drug sting say they were set up
After making preparations including buying a second-hand van, hiring an eight-tonne truck and a forklift, an accused drug trafficker received disappointing news the shipping container he expected would not arrive.
"I don't even need this one," David Campbell allegedly told a customs broker in April 2017, after only one of two containers he was expecting showed.
The container he needed, which allegedly contained close to a tonne of pure cocaine concealed in steel posts, had already been intercepted by authorities.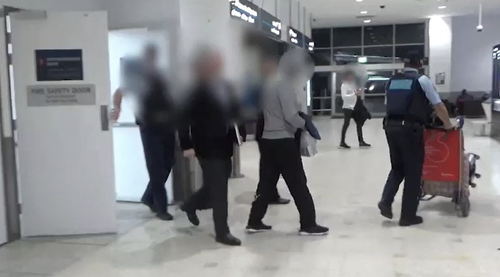 Campbell, 53, is facing trial alongside Tristan Waters, 39, accused of conspiring to import and possess border controlled drugs.
Waters has pleaded guilty to the second charge but denies involvement in the import conspiracy.
The pair were dramatically arrested at a Serbian hotel in January 2018 following a globe-trotting undercover police operation.
Their lawyers have described both men as expendable pawns acting under duress, and used by organised criminals and the police pursuing them.
"(The Australian Federal Police) set up an international lie," Campbell's barrister Ronald Driels told the NSW District Court on Monday.
Crown prosecutor Sean Flood told the jury the shipment was sent from China to Campbell's company in the steel industry.
But he was told it was lost in transit, while other containers were delivered.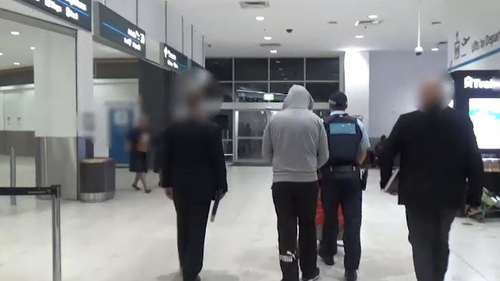 When Campbell learned the container had apparently been found by a man in New Zealand, but before he learned that man was an undercover cop, he was keen to help out.
"Would you like me to fly over there?" Campbell offered, noting his client would "love" to get the "steel" back.
Meeting across the Tasman three days later, the undercover officer told Campbell he wanted a "finder's fee" for the "stuff".
"When we're talking just call it steel mate," Campbell allegedly responded before being shown some photos of the container's shipment.
"The crown case is they clearly aren't of steel," Flood said.
Driels said the Crown's circumstantial case was built on confirmation bias, encouraging the jury to draw other inferences from the evidence as it unfolds, which could really show people continuing to conduct their legitimate business.
His alleged attempts to possess drugs could also be seen as a hands-on businessman trying to track down a client's missing shipment, Driels said.
The drugs in the container could have been planted while the legitimate shipment was delayed in China, a place with a "totalitarian regime … where corruption exists … where triads exist".
Campbell was never part of the first conspiracy and did not intend to be involved in the second one, his barrister said, describing his actions as performed "under pressure implemented by the Australian Federal Police".
Waters was also never part of the conspiracy to import drugs, his barrister David Dalton SC told the jury.
He accepted his responsibility for the possession charge, Dalton said, because although he was acting under duress due to threats to his wife and infant son, he never went to the police.
When arrested in Serbia, Waters was "playing a part", an expendable stand-in for principal syndicate leaders to establish whether the undercover cops they were meeting with were police or criminals looking to rip off the syndicate, or return its cocaine, Dalton said.