Albanese thanks Aussies spending Christmas working in annual address
Anthony Albanese has focused on thanking Aussies who are spending this Christmas working while giving the Prime Minister's annual Christmas message.
"Christmas is such a special time of year," Albanese said.
"It's a day of giving. It's a day for relaxing together with family and friends.
Watch the full message in the video above.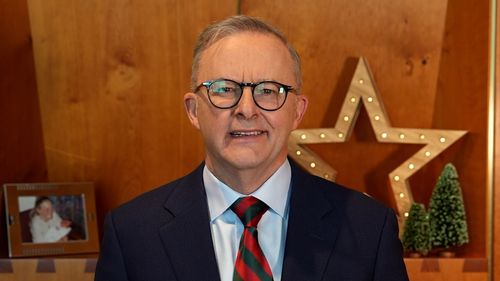 "And for many Australians, it is a day that is so central to their faith," his message, which has been delivered via video begins.
"Of course, not everyone gets to take it easy today. If you're rostered on somewhere, I want to say thank you for your service to others.
"If you're working because you've volunteered your time to make Christmas better for your fellow Australians – whether you're serving lunch to those in need or you're keeping our beaches safe – I want to express my gratitude and my admiration.
"The same goes to all our emergency service workers, and of course all Australian Defence Force personnel, whether they're serving here, or far from home overseas. Thank you to every single one of you."
Albanese concluded his messaging saying he hopes Christmas Day is "happy" for all Australians, regardless of what they are doing.
"And may Santa be good to every child. Merry Christmas."